Ethernet Miniature Repeating Hub Connects Omron's LCD Interactive Touchscreen Displays
Omron Electronics LLC of Schaumburg, Ill., is one of the world's leading suppliers of advanced industrial automation electronics and control system components. In order for Omron engineers and sales personnel to become more proficient in product-related information, regional training classes are held monthly throughout the United States. The classes often utilize computerized interactive training easels communicate and share training materials.
In March of 2002, Omron was about to introduce the CJ1 series of PLCs and a new NS series of LCD interactive touchscreen displays, both of which have built-in Industrial Ethernet functionality. In order to better demonstrate the Ethernet capability of both, Omron wanted new training easels that used the essential components of Industrial Ethernet networking. Omron's specific application tasks would allow the instructor to add more training easels in the class as needed and permit the instructor to send commands and modify data to each of the training easels. In order to accomplish this, the training easels would have to be connected together. Working with two local companies, Omron found the right solution that would serve as a means to interconnect the training easels: the miniature repeating hub.
Omron selected J. Boyd Hildebrant & Company, Schaumburg, Ill., to design, construct and pre-wire the equipment into a demo. Omron had employed this company's services ever since 1986 and recognized their expertise in demo design and fabrication.
"Realizing that everyone wants to exchange data almost instantly via Ethernet devices," says Jim Hildebrant, President of J. Boyd Hildebrant & Company, " I sought a manufacturer who continues to make Ethernet increasingly attractive as the major communications interface in many applications. I heard about Contemporary Controls' progress in developing proprietary Ethernet products under the CTRLink® trademark. These products are built for the rigors of the plant floor and harsh environments.
Hildebrant worked closely with the engineers from this Downers Grove, Ill.-based company to determine exactly what was required. "They were very knowledgeable and helpful in getting this project off the ground," he explains. "This extended from the initial call seeking information on Ethernet hubs to acquiring technical specifications. Contemporary Controls ' engineers supplied Hildebrant with the miniature EIM4-10T repeating hub (approx. 1.6" W x 3.1" H x 2.9"D). A hub was chosen rather than a switch in this application for several reasons:
The hub enables devices in a group to connect to one another
Omron's PLC communicates at 10 Mbps which was compatible with the hub's data rate of 10 Mbps rather than a switch which runs at 10/100 Mbps.
Using a switch would simply have been overkill in this situation.
The hub uses an active star topology in which groups of devices are configured from a central point, broadcasting messages to every device as soon as they are recognized; there is no delayed response.The star topology offers connections that are simple to wire, easy to detect failures and easy to maintain.
The hub proves to be more cost-effective than a switch.
Taking advantage of the EIM4-10T's capabilities, all communications would flow seamlessly between the PLC and the operator interface and the programming panel if connected.
The EIM4-10T is designed as a four-port Industrial Ethernet repeating hub in the CTRLink® family. One port has an extra socket allowing it to be used as an uplink port to connect two hubs together; thereby, eliminating a crossover cable. The hub supports the signaling requirements of 10BASE-T while conforming to the standards for IEEE 802.3 repeater units. The link integrity function is supported-confirming that a functioning adapter or hub is on the other end of the segment. Several LED indicators aid troubleshooting. Besides one common Collision LED, a separate LED exists for each port. Each port has one green LED which indicates link established when solid and port activity when flashing.

Hildebrant and Jeff Meyers, Technical Services Manager of Omron Electronics, agree that the hub incorporates many desirable features including its operational reliability, its size and stacking capability.The training easels have three modes of operation:

Stand Alone - The individual easel mounted PLC and LCD display communicate only with each other through the EIM4-10T hub.
Group - Two or more easels communicate with each other utilizing the stacking feature or unused port of the EIM4-10T. For example, this could be a training class with 11 students and the instructor communicating with only one of them since each easel is set-up with a unique IP address
Downloads or communications with the corporate LAN or WAN are also possible by connection from an individual easel or a group of easels' hubs when downloading PLC operational or LCD display information.
The EIM4-10T minimized the chance of error during the three modes of operation and allowed for stacking. Typically, there are from four to eight training easels in a class. The instructor will input information into the programming panel (or computer) that is located in front of the class. The programming panel is connected to one of the repeating hubs. The PLC communicates through the repeating hubs to the LCD display via standard Category 5 cabling. Because the distances were so short, standard Category 5 was all that would be necessary so the training easels could be networked together; back to either the instructor or to one another. Stacking provides tighter integration between hubs. It pays for itself with fewer errors logged during transmissions. And with this capability, Omron wouldn't have to worry about expansion limitations in the future.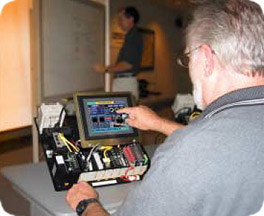 "As for size, this compact repeating hub readily fit into the space available with power and com cables dressing well," explains Hildebrant.
Hildebrant did reduce the amount of wiring by using less cabling to connect the I/O modules to the PLC. The modules were ideal for installation where space was limited. Once installed, quality control tests were carried out to ensure all cabling and wiring had been installed correctly and that both the PLC and the LCD display were functioning properly. He further says that other attributes of the EIM4-10T hub made this application successful. Its 24 Volt power supply was important since most hardened products are available with only DC power. DIN-rail mounting made installation quick and easy.
In all, the hub provided the answer to stackable hardware, allowed additional training easels to get connected to accommodate the number of students in a class and met the compact size demands. Meyers concluded, " The project is an ideal combination of design, construction and equipment."