UL864 Ethernet Switch Used With Federal Firesafety at Western Washington University
Western Washington University is a liberal arts college situated in Bellingham, just 90 miles north of Seattle. The University maintains 73 buildings on a 215-acre campus and 15 residence halls housing 4,000 students.
In November of 2002, Federal Firesafety was contracted by the University to upgrade the combined fire, security and access control system throughout the campus. The need for the upgrade was no surprise. The method of communications for the fire alarm and security systems were separate and primitive. "The fire alarm system used the McCullogh Loop (telegraph) format, providing a very slow and limited data transmission," explained Golian. "The security system was DOS-based and not completely Y2K-compliant."
Due to the nature of the project, access control and security were tied together into the fire system. "This was unique in the industry," said Golian. "Because of this type of system, it was necessary that all devices-security, FireWorks terminals, serial device servers, monitors and Ethernet switches had to acquire UL 864 Recognition."
Federal Firesafety chose the FireWorks Snergy System, manufacture red by Edwards Systems Technology (EST) in Connecticut, because it offers security and access control functions in one system.
Ethernet was used to connect more than 34,000 devices, including Smoke Detectors, Pull Stations, Motion Sensors and Duress Buttons, making the WWU system one of first Ethernet installations of this magnitude for this type of application, according to Federal Firesafety.
The TCP/IP protocol was used at the recommendation of EST due to its reliability, efficiency and ability to allow for the interoperability between the system's existing and new equipment.
As part of the upgrade, Federal Firesafety used Contemporary Controls' EIS Ethernet Interconnect Switch, which is a UL 864 Recognized Component. The UL recognized component mark is rarely seen by the customer, but is often part of a larger end-product that is UL Listed by the fire alarm system supplier. For an end-product to be UL Listed, the product is tested by UL to determine if it meets the requirements established by UL's published Standards of Safety. A UL recognized component has already been evaluated and tested in accordance with UL's component safety standards, streamlining the qualification process for the end-product.
By having the fire alarm system supplier specifying a Contemporary Controls' EIS Ethernet switch to be used within the system, the supplier is not required to perform additional testing on this component. Several fire alarm and security firms have already specified the EIS series as part of their system thereby improving their time-to-market.
Components that bear the UL Recognized Component mark are separately covered under UL's Follow-Up Surveillance program to ensure continued compliance and prevent unpleasant surprises when an end-product is inspected.
Chris Golian, vice president of Federal Firesafety, said that Contemporary Controls' dependability was an important factor in selecting the EIS. "we'll always be able to receive a consistent supply from Contemporary Controls," said Golian. "In my business, you develop the plans and submittals a year before construction. If the product we select is no longer available, it can mean a redesign and a resubmittal, even if there is a replacement that works in the same manner."
"Reliability was an important factor in terms of monitoring and controlling security and life safety situations," said Golian. "We encountered cost benefits because of their convenient mounting provisions. These units offered plug-and-play technology that saved us labor time because there was no set-up or configuration required. Plug-and-play technology allowed us to take the switches out of the box, mount them in the cabinets, power them and plug in the fiber. But the most significant benefit was greater flexibility. With only a small amount of available bandwidth used, we were able to add more card readers and video controls without shutting down the network or expending a lot of engineering hours. The system can support more than 4,000 access doors alone."
The Contemporary Controls' EIS8-100T switch provides eight 10/100 Mbps copper ports utilizing RJ-45 connectors. The EIS6-100T/FT is a similar design but with only four copper ports and two fiber optic ports utilizing ST connectors. The fiber optic units can be deployed over long distances (up to 2 km) and in locations where high noise immunity is required. The switches offer wide range AC/DC operation, but for this application, they only need to operate from low-voltage DC power. An MTBF of more than 40 years gives these switches an added networking advantage.
For this application the EIS power input was
At WWU, the system architecture communicates over Ethernet in 35 buildings on the campus with plans to convert one more building this summer and all the residence halls in the next few years. Devices can be positioned side-by-side or miles apart.
The Ethernet is monitored full time for integrity. The data transmitted must get through to allow annunciation of an emergency condition and control of the fire alarm panels from a central computer installed at a critical point within each of the buildings. Golian indicated that school administrators asked Federal Firesafety to demonstrate possible collisions. They activated alarms in ten buildings simultaneously with no lack of response.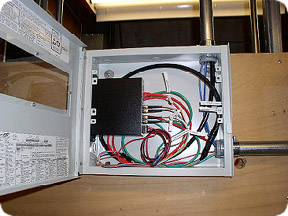 The access control database computer is separate from the monitoring and control computer. The monitoring and control computer (FireWorks) database had to be built from scratch with imports from the fire alarm and security panels in each building and updated CAD floor plans.
UL 864 Listed FireWorks terminals all reside on the Ethernet network and are positioned in the buildings near the installation of the fire alarm system. Copper or fiber connection to the next terminal is determined by distance. Several EIS8-100T's, connected by CAT 5 cabling, are employed when the terminals are short distances apart on the network.
The system architecture locks together through the switches. All had ST fiber connectors for the campus loop and 4-CAT 5 ports for the panels. The switches are installed in a separate cabinet adjacent to each fire alarm panel located in each of the 32 building's secure electrical room. Each panel has two outputs connected by RS-232 to two serial device servers. These device servers are mounted within the fire alarm control panel and cables via CAT 5 patch cables to the fiber switch.
Golian said Federal Firesafety utilized an existing spare pair of multimode fiber circulating throughout the campus. One administrative building has multimode to unimode converters on each end because there was no multimode to this facility.
The length of the fiber between switches is an average 270 m, in some cases more than 1000 m. The unimode run is just under two miles.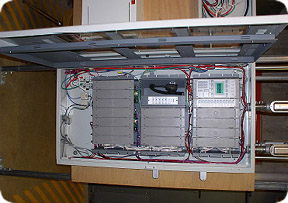 "In this project, it was understandable that safety was a major issue" stressed Golian. "That's why the Contemporary Controls' fiber switches can be powered by two separate and constant sources of power and the loop has a terminal on each end. Each switch is powered at 24 V DC by the fire alarm panel it is serving. In addition, we utilized a secondary hookup of a battery on the diode protected 2nd power supply connection. This provides continuity of the fiber network if a fire alarm panel must be powered down for maintenance. In addition, there is a dial up modem provided in case of a complete failure caused when a backhoe takes out the loop by accident."
Typically, one FireWorks terminal is located in the police dispatch console of the campus services building. The operator in police dispatch monitors all devices in the buildings by viewing the floor plans. The system flashes red for fire and orange for security. For example, when a smoke sensor or security violation occurs, the FireWorks system displays the exact location of the device and the type of alarm so fire or police personnel know where to arrive at the scene. In the event of a fault or even dirt building up in a smoke detector over time, the system will indicate which device in order to reduce troubleshooting and speed the response in an emergency.
The other terminal in the campus services building is located in the security equipment room. This is not staffed by any personnel but is used to perform maintenance. The campus technicians can test and disable devices from their terminal without disturbing dispatch to quickly detect the problem and fix it. Again, copper or fiber connection to the next terminal is determined by distance the campus.
The project was completed in September of 2003. Golian feels assured that as WWU intends further expansion, Contemporary Controls' engineers will respond with the effective action so readily displayed in the University's cohesive system. "Contemporary Controls' engineers listened to me when I requested information and solved our problems," said Golian. "Contemporary Controls response and action were excellent."