Popular Skorpion Ethernet Managed Switch Gains Fiber Option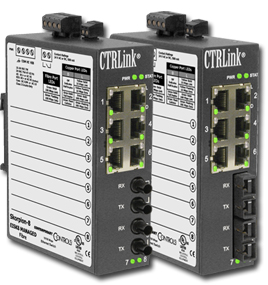 June 2013 - Contemporary Controls has added fiber optic options to its popular Skorpion Managed Ethernet Switch Series of products. In addition to six copper ports, each of the three new EISK8M models supports two fiber optic ports at 100 Mbps full-duplex speed. ST and SC connectors are provided in the two multimode models while the single-mode model has SC connectors. Fiber optic links allow for much greater distances than copper while achieving higher immunity to electrical noise.
For cable redundancy, the EISK8M Series with fiber can be connected in a fiber ring using the company's RapidRing® protocol or the industry standard Rapid Spanning Tree Protocol (RSTP). The switch is compatible with other Contemporary Controls' managed switches, which support RapidRing®. With the single-mode option, distances up to 15km are possible while the multimode option can support distances up to 2km.
The EISK8M series is a compact, rugged Ethernet switch intended for cost-effective SNMP managed switch applications. Each unit can be configured via its web pages and can be powered from either a 24 VAC or 10-36 VDC supply. Each model is DIN-rail mounted.
What makes the Skorpion Managed Ethernet Switch Series popular among users is that all models provide managed features at a manageable price. The switch series supports management features usually found only in high-end switches such as authentication, trunking, port mirroring, Virtual Local Area Network (VLAN), port forwarding, Quality of Service (QoS), programmable fault relay, cable redundancy, rate limiting, port security and Internet Group Management Protocol (IGMP) snooping.
For more information, visit the Skorpion Managed Ethernet Switch Series product page.