The BASremote is Even More Flexible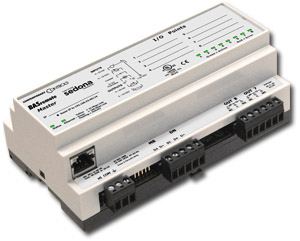 August 2014 - The BASremote has evolved over the years from its original intent as a BACnet/IP remote I/O device. We were one of the first to add a Power-over-Ethernet (PoE) option, allowing the device to operate without the need for control panel power. Next we added Modbus RTU to BACnet/IP gateway functionality which greatly expanded the point handling capability of the unit. Then we added Modbus TCP to Modbus RTU routing, providing the BASremote with Modbus TCP client capability. Next, we added a Sedona Framework virtual machine (SVM) eventually obtaining Sedona 1.2 certification, making the BASremote a freely-programmable B-ASC controller. The Linux-based BASremote is appropriately identified as a versatile BACnet/IP controller/gateway, but we did not stop there. By listening to our customers we are releasing several new features.
BASremotes with firmware release 3.7.7 have these added features:
Simplified trending
Authentication
Secure email notifications
Convenient firmware upgrades
Simplified Trending
Equipped with expansion modules, the BASremote can have up to 32 I/O points. With an installed Modbus device profile and attached Modbus devices, the number of points can increase dramatically. Each of these points can be trended using a simple "check-the-box" web page. Up to 150,000 data points can be saved before rollover of data. The output is a CSV-compliant file that can be manipulated using a standard spreadsheet program.
Authentication
Unauthorized access can now be prevented with password protection. This includes web page access, Java use, Sedona program protection and access to trend data.
Secure Email Notifications
Events captured in a Sedona program can trigger an email alert. Encrypted email services used by both Google and Yahoo can be used to carry these messages. The BASremote now supports SSL/TLS over port 465 and STARTTLS over port 587. It will continue to support traditional port 25 email services.
Convenient firmware upgrades
The BASremote is built upon a Linux platform and therefore supports the File Transfer Protocol (FTP) for making firmware revisions. With version 3.7.7 we have introduced a firmware update process based upon a simple web page action that removes the FTP complexity.
Any BASremote with version 3.1.2 or higher can be upgraded to version 3.7.7 using the traditional FTP process. There is no charge for the upgrade version. Also on the same support page is a new application note explaining how Modbus to BACnet mapping is accomplished in the BASremote.