Let Us Promote Your Successful Projects for You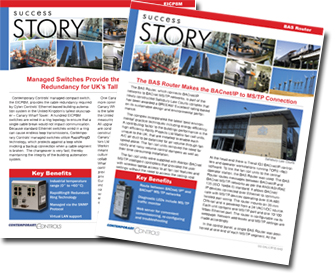 September 2014 - Contemporary Controls will promote your successful projects. All that is required is a completed success story form and a mention of our network products as part of the solution.
Success stories will be highlighted in our newsletters, on our website, on trade show collateral and other marketing collateral. This represents a good marketing opportunity with helping you to get the word out about your company, products and capabilities. And better yet, this is an opportunity to gain free publicity.
Success stories can include information on the following segments:
Industrial Automation
Building Automation
Commercial Automation
Communications & Networking
Energy, Utilities & Transportation
Embedded Systems
This opportunity will take only a few moments of your time. Simply complete the questions on the success story form and submit it. That's all it takes.

For more information contact: Kirk Clousson at kclousson@ccontrols.com or call 630.963.7070 ext: 109.