Global BACnet Roadshow Opens in Chicago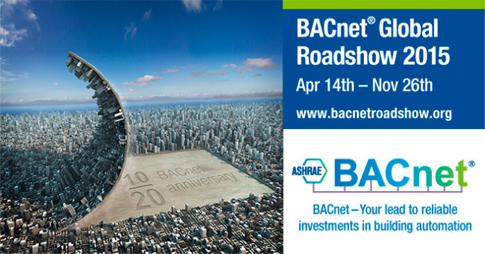 February 2015 - The 2015 BACnet Global Roadshow is the world's largest update on new capabilities of the BACnet standard that ensures open communication and reliable investments in building automation. A state-of-the-art exhibition shows future-proof interoperable systems and components for sustainable building management solutions. The Roadshow will travel throughout the world starting with foundation events in the Americas. The opening is in Chicago, IL, on April 14, Navy Pier, followed by Seattle, WA, April 21. The Roadshow will than travel to Europe, Middle East, Africa and Asia-Pacific.
The BACnet Global Roadshow offers an innovative program focusing on future-proof building management systems. Keynote speakers will provide inspiring presentations and outlook on future demands. Public administration will present upcoming efficiency targets. Associations will introduce the new capabilities and technology providers will present brand-new use cases, success stories and obstacles. There will be more than a dozen presentations per city and a comprehensive exhibition, providing new solutions, products and ideas.
Starting at noon, the events will allow travel and arrival in the morning. There will be an opportunity to network and receive consultation before and after presentations.
"The Global BACnet Roadshow is an opportunity to be involved with recent updates and capabilities of the BACnet standard. We are proud to be Gold Sponsors of the event as we are celebrating our 40th year in business delivering network solutions. We have been and continue to be heavily involved in BACnet as our BASautomation product line represents," states Bennet Levine, R & D Manager, Contemporary Controls.
With 12 BACnet committee-working groups, BACnet continues to assert its leadership as an open enabler of smart grids and efficient buildings resulting in a need for a global update Global Roadshow.
Register today and be part of the world's largest update on the BACnet standard!
http://bacnetroadshow.org/