Plugging in from New Hampshire, the 2015 PlugFest Conference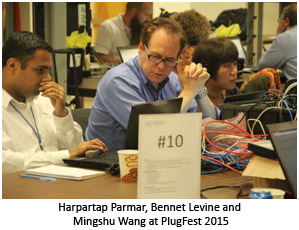 October 2015 - Members of Contemporary Controls engineering team recently attended the 16th annual Interoperability Workshop, called PlugFest 2015, at The University of New Hampshire in Durham, NH. The conference, for manufacturers of BACnet products, "permits vendors to test their BACnet products with BACnet devices from other vendors in a neutral and friendly environment" according to the conference's website.
At PlugFest, companies are afforded the opportunity to test how their products communicate with those from other companies. The conference is designed to have two companies sit together at a table with their products and connect them to each other. This setup allows companies to live test new products and features with products they may be connected to in the field and see if they communicate successfully, or if there are any wrinkles which need to be ironed out.
"One of the benefits of attending PlugFest is the chance to test new products," said Mingshu Wang, an engineer at Contemporary Controls. "We attend PlugFest every year because it gives us a unique chance to see how our products interact with those from another company."
Throughout PlugFest, there were four educational sessions conducted - two presentations (one on BACnet development and open source tools and one on what Cimetrics Inc. has learned from diagnosing large, multi-vendor BACnet networks) as well as two tours of the University of New Hampshire's InterOperability Laboratory.
The InterOperability Laboratory is able to independently verify products through a variety of different tests including IP Networking Tests and Ethernet tests like Power over Ethernet. The laboratory is also involved in many industry associations including the Digital Living Network Alliance and the OpenFabrics Alliance. Through involvement in these technological associations the InterOperability Laboratory is able to conduct certification and pre-certification testing, enabling businesses to prove their products work as designed and are up to the different organizational standards.
While PlugFest is relatively small when compared to the larger conferences Contemporary Controls attends throughout the year, it provided valuable feedback to our engineers which will ultimately help to improve our products.