Plugging in from New Hampshire, the 2016 BACnet International Plugfest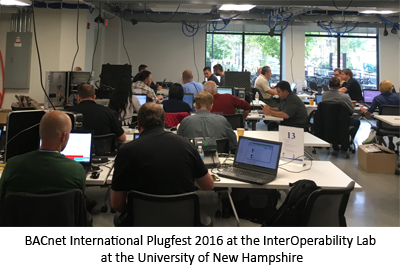 October 2016 - The BACnet International Plugfest 2016 at the InterOperability Lab at the University of New Hampshire, Durham, New Hampshire gave attendees the opportunity to live test new products and features. The conference, for manufacturers of BACnet products, allows attendees to test their BACnet products with BACnet devices from other attendees in a neutral and friendly environment.
"One of the benefits of attending PlugFest is the chance to test new products," said Mingshu Wang, an engineer at Contemporary Controls. "We attend PlugFest every year because it gives us a unique chance to see how our products interact with those from another company."
This year, there were 43 teams and about 80 attendees. Contemporary Controls worked with 9 different teams in 9 one-on-one sessions. They tested their BASgatewayLX, BAScontrolZ (in both server and client mode), BAScontrol22S, BASrouter, BASrouterLX and BDT products.Contemporary Controls also utilized its new unmanaged EISK8-GT/H 8 port gigabit Ethernet diagnostic switch with hub functionality to allow easy access for sniffer programs during the BACnet interoperability tests.
"Yes, we purposely 'broke' the address learning functionality of the switch," said Joe Stasiek, Sales Manager at Contemporary Controls. "This allows all messages - directed, multicast, broadcast - to flood the ports on the switch, allowing a protocol analyzer tool such as Wireshark® the ability to observe all traffic on the network."
Contemporary Controls kept the best part of the switch functionality by maintaining the auto-negotiation of the data rate at 10/100/1000 Mbps and allowing a straight through or cross-over cable on a per port basis. The switch, which Contemporary Controls calls a Diagnostic Switch, performed well at PlugFest 2016.
"Sometimes it becomes very important to be able to view the communication packets to determine why BACnet devices are not responding properly," said Joe Stasiek. "With the diagnostic switch on the communications wire and the sniffer set up to listen, the root cause is easier to discover and fix."
In your field work, if communication problems cause you serious grief, the EISK8-GT/H is the tool to help you resolve the issues. If you prefer a smaller diagnostic switch, there is a 5-port gigabit model EISK5-GT/H or the 5-port 10/100 model EISK5-100T/H. For more information please visit the Diagnostic Switch product page.
In addition to the interoperability testing at PlugFest 2016, Andy McMillan, President of BACnet International, spoke about the four accredited test labs around the world and the new BACnet International website. Lori Tribble spoke about the advancements BTL is making in testing the new BACnet BIBBs.