Power over Ethernet Solutions
Power over Ethernet (PoE) equipment adds power along with data to Ethernet wiring, so devices such as VoIP phones, surveillance and card access machines can be powered via standard Ethernet cabling. This provides flexibility by allowing the device installation irrespective of the location of an electrical outlet. The use of PoE also saves time and cost by eliminating the need to run separate power wires.
Contemporary Controls provides several solutions for your PoE needs. Power Sourcing Equipment (PSE) such as the Skorpion PoE Injector and Skorpion PoE Gigabit Switch provide the required 48VDC power onto the Ethernet cable while the Skorpion PoE Splitter extracts power from the Ethernet cable to power non-PoE compliant Powered Devices (PD). All PoE models support the IEEE 802.3af standard.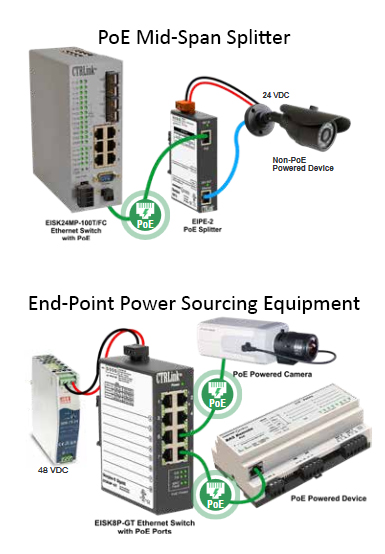 Skorpion PoE Mid-Span Injector — powering a single device
PoE requires a 48 VDC power source but most automation systems operate from 24 VAC/VDC power. If only one PoE device needs to be powered, a Skorpion PoE Mid-Span Injector can be used.
The injector is inserted mid-span between a standard Ethernet switch and Ethernet powered device. The injector operates from 24 VAC/VDC and internally generates the 48 VDC PoE power for the powered device — eliminating grounded primary power concerns while providing isolated 15.4 W power output. It injects 48 VDC into the Ethernet cable to provide both power and data to the powered device.
Skorpion PoE Mid-Span Splitter — harvest power from your cable
Under certain circumstances a non-PoE compliant device can work with the use of the Skorpion PoE Mid-Span Splitter. If the end device is 10/100 Mbps Ethernet-based but requires 24 VDC to operate, the splitter will accept the combined 48 VDC and data from a power sourcing equipment (PSE) and then internally generate 24 VDC to provide the non-PoE end device with separate data and power up to 10 W.
Skorpion PoE Gigabit Switch — high speed, compact size
For multiple PoE port applications, an Ethernet switch equipped with PoE sourcing ports is required. An end-point PSE such as the Skorpion PoE Gigabit Switch can drive a PoE splitter or a PoE compliant powered device directly. Power for the PoE switch is derived from an isolated 48 VDC power supply. PoE applications typically involve surveillance and card access systems.
Learn more about our PoE solutions or contact us to discuss your PoE requirements.