Machine Integration White Paper Available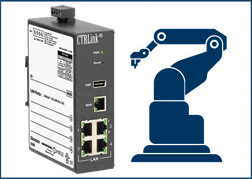 Contemporary Controls has recently published a white paper in the July issue of Control Engineering magazine discussing the use of our industrial-grade IP routers and Ethernet switches to simplify machine integration into existing networks.
As explained by Harpartap Parmar, Sr. Product Manager, "Modern factories and buildings are comprised of complex equipment and subsystems that communicate via the Internet Protocol (IP) – the backbone of the Internet. If new machines or subsystems are added, they may conflict with other plant addresses or the overall addressing policy that is already in-place."
The Contemporary Controls Ethernet products, including Skorpion routers and CTRLink switches, eliminate costly troubleshooting at the site. They allow you to retain the IP settings on your devices and integrate them into the factory network with minimal effort. Switches and routers with auto-negotiation for 10/100/1000 Mbps are available for use with legacy or new automation equipment in your networks. To register to download Harpartap's paper visit https://www.ccontrols.com/IPNetwork.
Ethernet continues to evolve as the network choice for automation systems. Whatever the Ethernet infrastructure need, a solution is available from Contemporary Controls. For information on these products visit https://www.ccontrols.com/ctrlink.