Our Featured Speakers at AHR 2020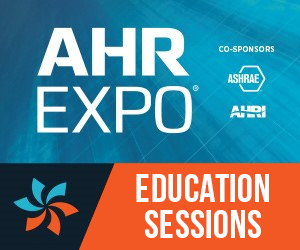 For those of you attending the AHR Expo 2020 in Orlando, Florida, February 3-5, be sure to add three free presentations to your show planner. On Tuesday, February 4th, Zach Netsov, one of our Product Specialists, will join a panel discussion in W311C from 12:00 PM to 1:00 PM titled "Next Generation HVAC Controls: Open Discussion for Open Future". If you follow Zach's blog on our website, you know he is passionate about the future of building controllers and has many insights to share.
Add session to show planner.
After this thought-provoking discussion grab a quick bite of lunch and at 1:30 PM return to join George Thomas, our President, in the same location. There, along with a group of fellow industry experts, he will provide his vision for integrating the occupant experience into smart buildings at "2020 Vision – AHR Orlando: The Eighth Annual Connection Community Collaboratory".
Add session to show planner.
Then on Wednesday, February 5th, join Zach again in Theatre A at 10:45 AM as he presents "BASpi is a BACnet/IP and Azure Cloud Connected Sedona Programmable 12-point Controller". The features of the new BASpi Edge Controller, such as BACnet, Sedona, Alarms, Schedules, Weather, Cloud connection, etc., will be explained.
Add session to show planner.
Also be sure to stop by Booth 681 in the Building Automation and Control Showcase sector to see our suite of BACnet-compliant and BTL Listed products. Contemporary Controls remains your source for innovative, trusted solutions that allow you to build on BACnet.
Note: Adding a session to your AHR show planner is not a reservation that guarantees you a seat. Seating is on a first-come, first-served basis.