2019 Vendor of the Year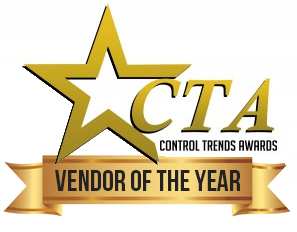 Contemporary Controls was awarded "Vendor of the Year — Small Manufacturer" and "Peripheral Vendor of the Year" at the annual Control Trends Awards.
"These awards recognize not just our innovative networking and control products, but the entire team that supports our customers from product selection to implementation and troubleshooting in the field," said George Thomas, President of Contemporary Controls. "We thank all our supporters who voted for us in this year's Control Trends Awards and look forward to continuing successful implementations using our products in the future."
The always enjoyable Control Trends Awards were held at BB King Blues Club in Orlando, Florida. This industry event was created in 2012 by Eric Stromquist and Ken Smyers to recognize the companies and people who make meaningful contributions to the Building Automation industry. Contemporary Controls is grateful for the continued support and effort Ken and Eric have invested in this community building event.