New BASrouterLX Firmware Available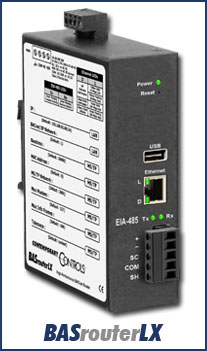 Firmware 1.3.8 is now available for our BASrouterLX users. The updated firmware version provides users with the ability to hide MS/TP devices from being discovered with the Block Full-Range Who-Is Broadcast feature. Users can disable this feature to make the initial discovery and then enable this feature to block future discovery of the connected MS/TP devices. Who-is messages sent directly to a specific MS/TP device will not be blocked to allow proper communications to these devices. This feature can be used to hide the MS/TP devices after they have been discovered and brought into a head-end.
Firmware 1.3.8 also enhances the BASrouterLX's security by requiring users to change the default username/password before other configuration settings on the router can be made. This update allows the BASrouterLX to comply with California state law SB-327.
Additional firmware changes include closing extra ports and the ability to enable/disable FTP and Telnet via the webpage.
The BASrouterLX is a high-performance BACnet router providing stand-alone routing between BACnet networks such as BACnet/IP, BACnet Ethernet (ISO 8802-3), and BACnet MS/TP. Besides its high-speed processor, it has advanced features such as MS/TP Backbone, Backward Routing, Allowlist option for enhanced security, MS/TP slave proxy support (allowing auto-discovery of MS/TP slaves) and MS/TP frame capture and storage for use with Wireshark®. As a BBMD, up to 50 BDT and 147 FDR entries can be supported. The BASrouterLX has two physical communication ports — a 10/100 Mbps BACnet/IP Ethernet port and an optically-isolated EIA-485 port for MS/TP. Router configuration is accomplished via web pages.
To learn more about BASrouterLX, go to the BASrouter LX product page. To download firmware 1.3.8, visit the BASrouterLX Firmware page.