German-Language Site Now Available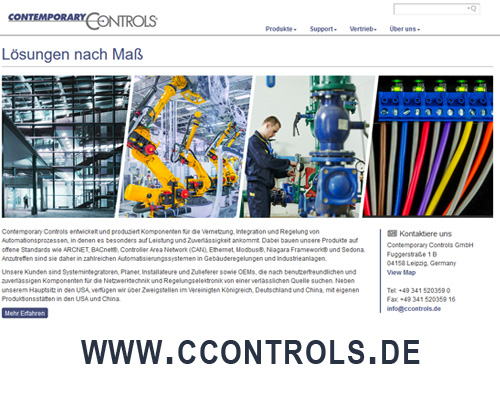 Contemporary Controls has launched a German-language site to better support our European customers. Contemporary Controls already has technical support available through our Leipzig and UK offices, while the new site further supports these customers with native language product information.
The new site, at www.ccontrols.de, has the full CTRLink and BASautomation product line. Product information including datasheets are available on the website. A YouTube German language About Us video is available and other videos will be added in the future.
We design and manufacture the system building blocks for networking, integrating and controlling automation processes where performance and reliability are important. Our products are built upon open technologies such as ARCNET, BACnet®, Controller Area Network (CAN), Ethernet, Modbus®, Niagara Frameworkℜ, and Sedona — typically found in the building, energy, and industrial automation industries.
"Our BAScontrollers and BASrouters are very popular" said Christian Blenz, Application Engineer, Contemporary Controls GmbH. "European customers know they can call us and expect multilingual technical support. The new German-language site is another example of our commitment to this market." Christian and our UK support team has been recognized with numerous awards for their outstanding technical skills, including this year's BCIA award nomination for Technical Innovation of the Year.
Visit www.ccontrols.de to check out the new site. Send us your feedback regarding the new site by emailing c.blenz@ccontrols.de.