BACnet-Compliant Wired or Wireless Communicating Thermostats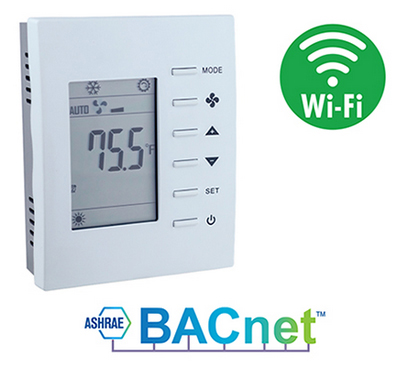 The BASstat Communicating Thermostat Series has several models to ensure effortless integration into BACnet/IP (Wi-Fi) or BACnet MS/TP (EIA-485) networks. Depending on parameters, such as building zone layout, existing EIA-485 cabling, Wi-Fi routers and connection distance requirements, each BASstat model offers distinct benefits that provide flexibility when installing a distributed zone thermostat control system.
All models include a built-in temperature sensor, input for our remote temperature sensor, or temperature override via network command from the Building Automation System. A built-in relative humidity sensor (in 221CH models) allows the thermostat to display relative humidity on the screen as well as serve it as a BACnet object. Dew point calculation is also served as a BACnet object (no control action is taken based on humidity). Occupancy status can be set from thermostat buttons or over the BACnet network. Thermostat buttons are optionally lockable to prevent unauthorized control or configuration changes. A digital display with graphical icons is easy to read and understand.
Thermostat connection using BACnet MS/TP over EIA-485
The BAST-221C-B2 wired thermostat model is BACnet MS/TP connected utilizing an EIA-485 serial connection. The EIA-485 physical layer can be very effective. It offers the flexibility and convenience of a maximum segment distance of up to 1200 m /4000 ft. allowing for daisy-chaining of equipment on the same bus which makes it the perfect choice when long segments are necessary for the installation. Communicating at lower speeds also gives it the advantage of being more resilient to the noise present in industrial environments. EIA-485 wiring can be found in many existing buildings making it perfect for retrofit upgrades without the need to run new wires.
Thermostat connection using BACnet/IP over a wireless Wi-Fi connection
The BAST-221C-BW2 wireless thermostat model is BACnet/IP connected using a wireless connection to a nearby Wi-Fi router/access point which supports IEEE 802.11b/g/n. The respective maximum indoor range is 115 ft. for IEEE 802.11b, 125 ft. for IEEE 802.11g, and 225 ft. for IEEE 802.11n considering there are little to no substantial obstructions between the Wi-Fi router and the thermostats which is the case in most standard buildings. Some building materials rarely found in standard buildings can create obstructions which prevent Wi-Fi radios from communicating such as thick reinforced concrete (at least 200mm with or without metal reinforcement), thick masonry blocks and brick-faced walls, and metal obstructions such as shelving units or dense metal reinforcements. However, most widely used materials such as standard concrete or brick walls (100mm), lumber, plywood, and glass do not impose serious Wi-Fi radio barriers making Wi-Fi a convenient choice for many installations where wireless communication can be conveniently leveraged to avoid running wires.
Remote Temperature Sensing
Sometimes the ideal location to install the thermostat is not the ideal location to capture a correct representation of the temperature in the room, either because it is near a draft, exposed to sunlight, directly under a ceiling fan, near exterior doors or close to equipment that create hot or cold air. In that scenario, a remote temperature sensor is available. Featuring an NTC type 3kΩ thermistor, the temperature sensor is directly compatible with any BASstat model.
To learn more, visit the BASstat product page.