BASpi-Edge Watches the Weather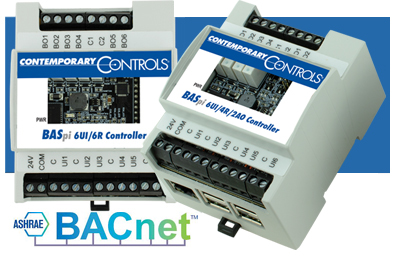 Many building-automation systems are already making decisions about mechanical-system operations based on outdoor conditions. Momentum is growing, however, to use more extensive weather data to optimize building operation.
"Imagine having the ability to track such factors as temperature, humidity, rain, wind, weather forecasts, alerts, and barometric pressure," says Harpartap Parmar, Contemporary Controls Senior Product Manager. "Do you need to operate the lawn sprinklers today after you just had a two-inch rainfall?"
This kind of weather data can help you make decisions that dramatically reduce the amount of energy and resources used by your building system. In fact, incorporating this type of information may be one of the least expensive ways to increase building energy efficiency.
The BASpi-Edge, the most versatile Edge Controller in the market, supports current weather forecast data obtained from the free weather web service hosted by the openweathermap.org server. A free account can be created allowing the user to obtain an API key, which will then be entered into the API Key field of the BASpi-Edge Weather Configuration web page. Different API keys can be used by different BASpi-Edge controllers installed at different sites. An Internet connection over Ethernet or Wi-Fi is all that is required for the BASpi-Edge to query the weather server.
Once the API key and Internet connection are configured, weather forecast parameters can be bound to Virtual Points (see our earlier newsletter story regarding Virtual Points) and be used in the Sedona wire sheet as controller logic, served over BACnet, used in local graphical dashboards, or pushed to cloud dashboards. Temperature, pressure, humidity, wind speed, wind direction, rain conditions, snow conditions, and cloud coverage weather parameters are supported. Each weather condition requires a Virtual Point. A total of 48 Virtual Points are available.
Virtual Point components with assigned weather parameters can then be dropped on the Sedona wire sheet and utilized in control logic. Virtual Points are automatically served over BACnet and can also be utilized in graphical dashboards or cloud dashboards. Weather service is completely free as long as the default Weather page Poll Rate configuration in the BASpi-Edge is kept, and account service is limited to 60 calls/minute per account. For additional weather performance, a paid account could be established to support more BASpi-Edge units under the same account and/or make more service calls per minute.
The ability to monitor the weather is just one feature of the BASpi-Edge. It also features a 24 VAC/VDC power input, resilient pSLC 8 GB micro SD card, BACnet client/server communication over Ethernet or Wi-Fi, and Sedona function block programming. Data processing at the edge, web page configuration with quick and easy cloud connectivity to Azure IoT Central (SaaS) cloud solutions – all these features make BASpi-Edge a versatile controller suitable for a wide array of applications.
Two models are available. While both models have six universal inputs, one model has six relay outputs, and the other four plus two 0-10 VDC analog outputs. Visit the BASpi Controller web page (insert link here) for more information on the many features which this controller provides.
To learn, visit the BASpi-Edge product page.