Controller Emulation on a PC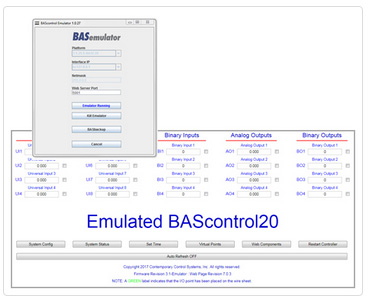 The free BASemulator replicates on a PC the operation of the BAScontrol series of open unitary controllers, thereby allowing sequence of operation (SOO) verification without having the actual controller. Using a PC, engineers can view the same program that will be used on the job to verify that it meets the engineer's intended sequence of operation. For a contractor, programs can be developed, configured and then saved on a PC for eventual downloading to the intended controller at the job site.
The BAScontrol series of BACnet/IP unitary controllers are freely-programmable using Sedona, an open-source technology that facilitates component-oriented programming where components are assembled onto a wire sheet, configured and interconnected, to create applications. The BASemulator is free and joins the other free Sedona tools such as the Sedona Application Editor (SAE) which allows for Sedona programming, and BASbackup which will save and restore all BAScontrol configuration and programming files as a project. Contemporary Controls believes that an open controller requires tools available to all without restriction.
BAScontrollers operate in ambient temperatures between −40°C to +75°C, making them suitable for both indoor and outdoor applications. Rugged metal design, low profile, and wide temperature operations make the BAScontrollers a popular solution for various AHU, RTU, fan coil or refrigeration applications.
Because it's both BACnet/IP compliant and has a direct connection to an Ethernet network, the BAScontrollers demonstrate the value of open systems by reading and writing BACnet points over an IP network. The units are ideal for unitary control or for expanding I/O points in the field via an Ethernet connection.
Visit the BASemulator product page to learn more.