Secure Remote Access Solutions Without a Cloud-Based VPN Server
Contemporary Controls' EIGR-VB Gigabit IP router can be configured as a wired bridge VPN server for single-site, remote access solutions. With this configuration, users set up and maintain their own secure remote access without subscription fees and without the need for a cloud-based VPN server.
Operating in OpenVPN server mode, the EIGR-VB supports bridge mode where up to 10 VPN clients (PC/Phone/Tablet) are bridged to the router's LAN side and assigned an IP address from the LAN subnet. This provides the same application experience as if the client devices were part of the EIGR-VB's LAN and allows passage of multicast and broadcast messages through the VPN tunnel without the need for a BACnet/IP Broadcast Management Device (BBMD).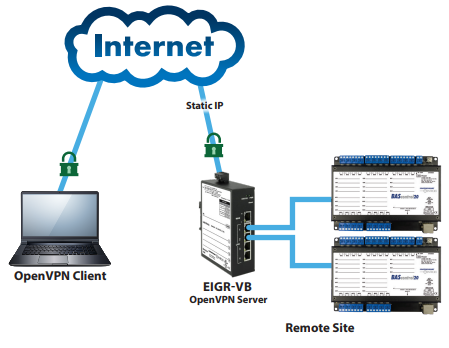 Although the EIGR-VB has many of the same features found in high-end routers, it is simpler to install and commission. A resident DHCP server on the LAN-side will provide IP addresses to LAN-side clients, while a DHCP client on the WAN-side will accept IP address assignments from the attached network. Static addressing is accommodated as well. Configuration is via a web browser using authentication.
In addition to the BridgeVPN "self-hosted" solution, Contemporary Controls offers a Self-HostedVPN solution which allows network savvy customers to set up and maintain their own wired or wireless remote access for multiple clients – up to 15 wired/cellular IP routers in OpenVPN client mode and 15 OpenVPN clients on PC/tablet/phone.
Another alternative is a VPN service, such as Contemporary Controls' RemoteVPN subscription service, which provides secure communication and the convenience of remote access without having to maintain the VPN server.
A new BridgeVPN application guide (PDF) is available on our website. It has been updated to reflect the latest advances in our CTRLink EIGR-VB router. Seven typical applications are shown in the guide, with numerous alternatives described for each implementation. This application guide will teach you how to incorporate a VPN into almost any situation you can imagine, and maybe some you haven't even thought of yet.
Visit the IP Routers page to learn more about how our IP routers can ease the integration of new machines into an existing network.