Sixteen-Port Ethernet Switch In-Stock and Ready to Ship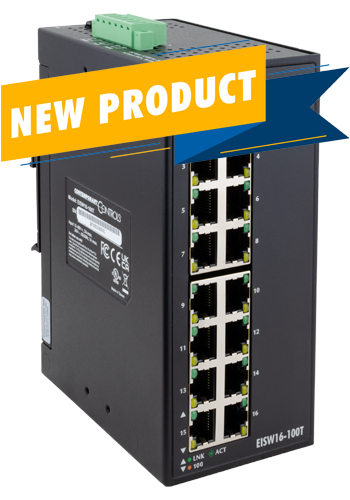 Contemporary Controls' EISW series of unmanaged switches now includes a sixteen-port option, making it even easier to expand your Ethernet network.
The EISW16-100T sixteen-port switching hub provides 10/100 Mbps performance on all ports to accommodate a range of control devices and workstations commonly found in an automation project. In addition, a wide operating temperature range of –40°C to +75°C makes it suitable for outdoor applications.
The unit is encased in a rugged steel enclosure, with both DIN-rail and wall mounting installation. A metal DIN-rail clip attached to the steel enclosure can survive the toughest installation.
"As Ethernet continues to evolve as the network of choice for automation systems, network capacity and data transmission capabilities must evolve as well," said Joe Stasiek, sales manager at Contemporary Controls. "Along with its robust and reliable operation in extreme temperature environments, our new EISW16-100T has added features, such as 16K MAC address and Jumbo Frame support, to accommodate the speed, efficiency and performance requirements of next-generation networks."
The switch supports plug-and-play operation and requires no configuration. All ports automatically configure their data rate and duplex using auto-negotiation protocol. Depending on the capability of the link partner, communication is set at 10 or 100 Mbps and at either half- or full-duplex. The EISW16-100T has sixteen Auto-MDIX ports for attaching local devices. Each port has an LED that glows with an established link and flashes with activity which assists in troubleshooting connection issues. Each port also has a speed LED that glows amber for a 100Mbps link.
The unit is powered from a choice of low voltages (24 VAC or 12-48 VDC). Redundant power connections are provided for back-up power schemes. LEDs assist in troubleshooting. Plus, a removable power connector facilitates the servicing of the unit. The switch is UL Listed for Industrial Control Equipment and complies with CFR 47 Part 15 Class A. It carries the CE Mark and is UKCA compliant. The EISW16-100T complies with the Trade Agreements Act (TAA).
Visit the EISW Switch Series product page to learn more.