UL 508 Transitions Towards IEC Standards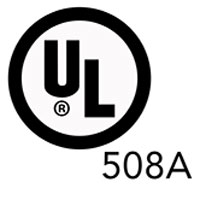 To allow wider acceptance and reduce testing for different standards, UL has been working towards harmonizing with IEC standards. New UL standards for UL 508 transition have been released since 2014. This transition impacts the public perception of only accepting UL 508 equipment for use in UL 508A control panels. The new applicable standards depend on the type of equipment and can be UL 61010, UL 62368, UL 60947 to name a few.
UL 508A Standard covers industrial control panels intended for general industrial use, operating from a voltage of 1000 volts or less. This equipment is intended for installation in ordinary locations, in accordance with the National Electrical Code, ANSI/NFPA 70, where the ambient temperature does not exceed 40°C (104°F) maximum.
The EISW series consists of 5, 8 and 16-port 10/100 Mbps Ethernet switches that can be DIN-rail mounted in control panels and powered from a NEC class 2 limited energy power source. The EISW switches are UL Listed as Information and Communication Technology Equipment under safety standard UL 62368-1 and can be installed in a UL 508A panels without invalidating the control panel listing.
For more information about using our EISW series in 508A panels, please review the Information Sheet: EISW Series of Ethernet Switches Suitable for UL 508A Control Panels.