BACnet/IP to BACnet MS/TP Router Options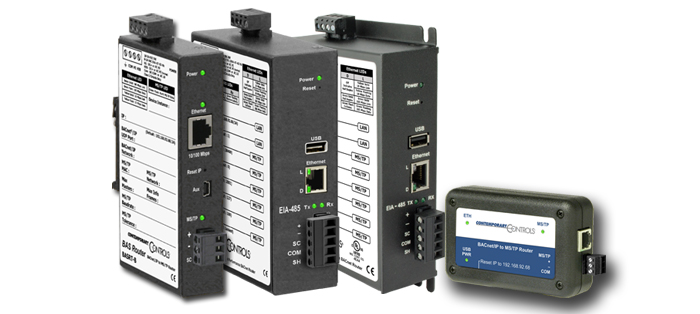 A BACnet router is used to route messages between BACnet/IP, BACnet Ethernet, and BACnet MS/TP networks. Contemporary Controls provides three models of BACnet routers: the Portable BASrouter, the BASrouter, and the BASrouterLX. All three models are web page configurable and have several troubleshooting/diagnostic capabilities. The differences in their features make each ideal for different types of installations.
The Portable BASrouter is used for commissioning and troubleshooting. It is easy to carry, web page configurable, and powered through a USB connection by the USB port of a laptop computer at the job site. Auto-negotiation and Auto-MDIX allow its Ethernet port to automatically match connections to the attached equipment. Therefore, either a straight-through or crossover CAT5/6 cable can be used for Ethernet connection. A resident web server allows for commissioning and troubleshooting using a standard web browser.
The BASrouter is a compact DIN-rail mounted unit used for fixed installations. It is a robust and versatile router powered by 24VAC/DC that allows systems integrators to mix BACnet network technologies within a single network. We have an application guide that explains the many ways a BASrouter can be utilized, including:
Connecting BACnet's Controller and Field Level devices
Connecting distributed BACnet/MSTP segments over Ethernet infrastructure using BACnet/IP
Adding BACnet/IP Automation Equipment to an MS/TP Network
Incorporating BACnet/IP Broadcast Management Device (BBMD) functionality to connect distributed BACnet/IP networks
Segmenting Field Devices over Multiple Floors
The BASrouterLX has a faster processor and more memory than the BASrouter or Portable BASrouter, allowing it to have advanced features such as MS/TP Backbone, I-Am Broadcast Control, Allowlist for security, MS/TP slave proxy support, and MS/TP frame capture and storage. It supports 50 BBMD entries compared to 5 entries for BASrouter.
MS/TP Backbone: In most circumstances, BACnet routers are connected over a common Ethernet trunk integrating MS/TP devices. For scenarios where two routers are connected using MS/TP, this can cause communication issues between BACnet/IP devices. If the BACnet client and the end device both communicate via BACnet/IP (Ethernet) with intervening MS/TP networks, then the client and end device may try to send larger messages than MS/TP can carry because they think communication is occurring over Ethernet using 1500-byte messages. MS/TP networks cannot accommodate these larger messages which will be dropped. With the MS/TP backbone feature enabled, the BASrouterLX will notify the BACnet/IP messages to use a smaller packet size so it can traverse over MS/TP networks.
I-Am Broadcast Control: Most of the MS/TP server devices use a low-power CPU and only need to respond to requests from the BACnet client. They usually don't need to receive all the I-AM messages from other devices in response to a Broadcast Who-Is message. To prevent MS/TP devices from being inundated with Broadcast I-AM messages, the BASrouterLX I-AM Broadcast Control feature can be enabled.
Allowlist: You can indicate which IP devices can communicate through the BASrouterLX to the MS/TP network. Generally, any BACnet client can access any point on any device. The allowlist can control which BACnet/IP clients can discover and read/write points on the MS/TP devices. Up to 10 IP addresses can be entered into the BASrouterLX Allowlist.
MS/TP Slave Proxy: An MS/TP slave device with a MAC address greater than 127 cannot participate in token passing and need a proxy device to communicate with the slave device and deliver its data to the BACnet network. The BASrouterLX supports the MS/TP Slave Proxy feature allowing it to integrate MS/TP slave devices into the BACnet network.
Wireshark capture: The BASrouterLX has a webpage that allows the traffic capture of the MS/TP network. The captured file can then be clicked and viewed on the local PC using Wireshark. This allows easy troubleshooting of the MS/TP network as long as the BASrouterLX is accessible via its webpage.
To learn more about all three routers, visit the BASrouters series page.