The BAS Router Makes the BACnet/IP to MS/TP Connection at Salisbury Courts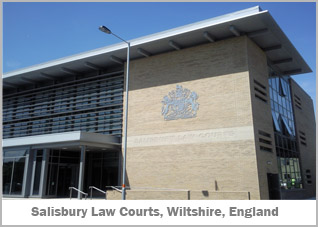 March 2010 - The BAS Router, which connects BACnet/IP networks to BACnet MS/TP networks, is part of the newly constructed Salisbury Law Courts complex that has been awarded a BREEAM "Excellent" rating based on its sustainable design and environmental performance.
The complex incorporated the latest "best environmental" practice techniques including energy efficiency. A contributing factor to the buildings performance is the high efficiency Ability Projects Ltd Matrix fan coil units, unique to the UK, that are installed to enable each A/C air duct to be balanced for air volume through fan speed alone. The fan coil units removed the need for costly and noisy volume control dampers as well as their time consuming installation.
To link the fan coil units to the central operator station, the BAS Router was used. The BAS Router routes messages between BACnet/IP and BACnet MS/TP networks. It allows BACnet/IP devices connected over Ethernet to communicate with MS/TP devices operating over EIA-485 twisted-pair wiring.
For this project, a single BAS Router was relegated to each floor of the building and positioned at one end of a MS/TP segment. All the FCU's on that floor were then tied into the MS/TP port on the BAS Router using a bussed connection.
On the Ethernet side, the BAS Router was connected to a 10/100 Mbps Ethernet switch. One port on the switch was then connected to the main BACnet/IP network where the Trend building controllers and operator works stations reside. Using common BACnet discovery tools, each of the fan coils can be viewed from the head end. The BAS Router makes communication between BACnet/IP and BACnet MS/TP transparent.
The full Success Story is available online. For technical instruction on connecting the BAS Router to the FCUs, the Application Note is available online.