Free Upgrades for BAS Router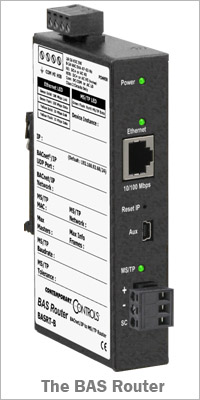 March 2010 - The BAS Router has been significantly enhanced with added features and, as part of Contemporary Controls' tradition of supporting products in the field the company is offering free upgrades.
"The BAS Router is extremely popular because it provides a low-cost solution for attaching a BACnet/IP network to BACnet MS/TP without the expense of installing a building controller," said Joe Stasiek, Sales Manager of Contemporary Controls. "But our customers using the BAS Router asked us for more. We listened, and the result is a multi-network router that allows three-way routing between BACnet/IP, BACnet Ethernet and BACnet MS/TP along with BBMD support."
The BAS Router provides stand-alone routing between BACnet networks such as BACnet/IP, BACnet Ethernet, and BACnet MS/TP – thereby allowing the system integrator to mix BACnet network technologies within a single BACnet internetwork.
Foreign devices now can register with the BAS Router. Other new features include additional web pages for BBMD configuration, display of the Broadcast Distribution and Foreign Device tables, an advanced page for working with NAT routers, and access to a diagnostic page to help troubleshoot the router's connection to the internetwork.
The company is offering free upgrades to their customers by calling Contemporary Controls.
"The free upgrades are part of our customer service tradition," said George Thomas, president of Contemporary Controls. "We understand the pressure installers face in the field in solving problems quickly, especially when integrating systems. The BAS Router 2.0 provides support for BACnet Ethernet and BBMD without a hardware change, so we want our customers to be able to take advantage of that."
Contemporary Controls' commitment to customer support is evidenced by the wealth of online training materials available, as well as their sponsorship of the Industrial Ethernet University.
"We want to do as much as possible to education the public on the best uses of the technology," said Mr. Thomas. "We have more than 35 years of experience with ARCNET, Ethernet and open protocols, like BACnet. We leverage our experience to explain technology in simple terms. We publish application guides, provide tutorials and continually update our online learning center."
To take advantage of the free upgrade, please visit the BAS Router product page or call 1-630-963-7070.