New Automation Switch Series Offers the Highest Port Density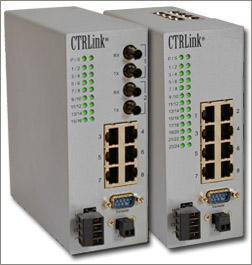 March 2013 – For larger systems, management functionality, and wide temperature range, Contemporary Controls has released the EIDX_M Automation Switch Series with up to 24 ports and fiber/copper combinations. The EIDX_M provides extensive management functionality for applications where extended temperatures of -40° C to +75° C are expected.
"For those who need to push the limit of Ethernet connectivity and require high port density with minimal panel space, the Automation Switch Series is ideal," said Joe Stasiek, Sales Manager at Contemporary Controls.
In addition to the conventional features standard in Plug-and-Play switches, the EIDX_M offers many important managed-switch benefits. These benefits includes IGMP snooping and IGMP query, RapidRing®, VLAN, Quality of Service (QoS), port mirroring, rate limiting, trunking, port security, the Simple Network Management Protocol (SNMP), and the Rapid Spanning Tree Protocol (RSTP).
Configure the unit by web browser via any Ethernet port - or in terminal mode via the local console port. Using either of these methods, port parameters, feature configuration and device status can be monitored and/or modified. A configurable relay is present for attaching fault-monitoring equipment.

The Automation Switch is available in eight models - two all-copper and six copper/fiber. Fiber support includes multimode fiber with either ST or SC connectors or single mode fiber with SC connectors. Fiber port data rates are fixed at 100 Mbps full-duplex while all the copper ports can auto-negotiate data rate from 10 to 100 Mbps and from half- to full-duplex. Both the 16- and 24-port models have eight ports on the front and eight ports on the bottom while the 24-port model has an additional eight ports on top. Copper ports utilize shielded RJ-45 connectors.
An abundance of LED indicators are available for monitoring switch status and port status.
The unit can be either DIN-rail or panel mounted and can be powered from a 24 VAC/VDC power source. A N.O. contact is available for signaling a fault condition to external equipment.
Visit the EIDX_M product page to learn more.