Updated Site Focuses on Industrial Ethernet Solutions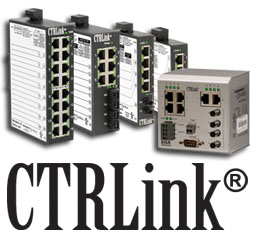 April 2013 – Contemporary Controls has re-launched www.ctrlink.com, our website dedicated to our industrial Ethernet product line which includes simple plug-and-play unmanaged switches, media converters, fully-managed switches, wired and wireless IP routers and products that support Power-over-Ethernet (PoE). CTRLink products have been successfully used in diverse industries including:
Industrial Automation
Building Automation
Commercial Automation
Communications and Networking
Energy, Utilities and Transportation
Embedded Networking
The CTRLink website showcases the products that overcome the challenges that Ethernet presents to the automation professional by being able to withstand environments not conducive to office grade equipment and by providing convenient mounting in control panels, low-voltage power wiring, improved EMC compliance, and reliability.
Also included on the site are tutorials about management fundamentals, cloud VPN, life safety solutions and ways to improve real-time communication.
Visit www.ctrlink.com to learn more.