Momentum 2013 a Success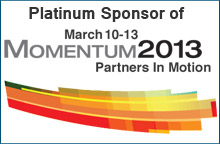 April 2013 – For Contemporary Controls, Momentum 2013 was a wonderful success. We thank all of you who made the effort to visit our stand to view our BACnet routers, gateways and Ethernet infrastructure products. Many of you are already our customers and we enjoyed interacting with you and learning how we can better serve you. Your experiences and comments become the basis for our future products so please contact us with any need you have.
Our focus is bringing devices up to IP networks so BACnet/IP is very important to us. We showed you how our BACnet MS/TP routers can bring Spyder controllers up to BACnet/IP without installing another building controller. Our BACnet gateways make it easy to integrate Modbus RTU to BACnet/IP because we provide the necessary device profiles. You just check-off the points you want. Once up on BACnet/IP, our managed and unmanaged Ethernet switches can complete the installation. They were designed to co-exist in the control panel with other 24 VAC control equipment.
Our BAScloudVPN solution could be your answer for cost-effective remote monitoring of your sites. A VPN connection can be made using a wired or cellular connection. We can show you how to make this work with our hosted cloud service.
If we do not meet sooner, we will see you again at Momentum 2015.