BASremote Master Certified for Sedona 1.2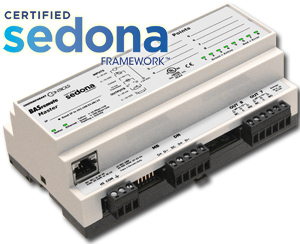 August 2013 - Contemporary Controls' BASremote Master recently updated to Sedona 1.2 received Sedona Framework Certification from Tridium. Certification reinforces BASremote Master's capabilities as an industry leading integration and control device solution. The BASremote Master is also BACnet/IP and Modbus TCP compliant.
Having Sedona Framework certification provides buyers with confidence that the BASremote Master's interoperability is backed by specific conformance to industry-defined norms, ensuring buyers are getting industry tested and certified devices with greatest flexibility and highest level of quality.
The BASremote Master provides the system integrator a flexible building block when integrating diverse building automation protocols or when expanding the number of points in a building automation system. It operates as a function block programmable controller with its resident Sedona Framework 1.2 virtual machine. Its flexibility allows it to be used for expansion I/O at remote locations where an Ethernet connection exists. The BASremote Master's built-in Modbus router and gateway capabilities address unique integration needs where more than one communications protocol is involved.
Powered by a Linux engine, the BASremote Master can operate as BACnet/IP and Modbus TCP remote I/O, Sedona Framework controller, Modbus Serial to Modbus TCP router, Modbus Serial or Modbus TCP to BACnet gateway, and Modbus master to attached Modbus slaves consecutively. A 10/100 Mbps Ethernet port allows connection to IP networks and popular building automation protocols such as Modbus TCP, BACnet/IP, and Sedona SOX. Six universal I/O points and two relay outputs can be configured through resident web pages using a standard web browser and without the need of a special programming tool.
A 2-wire Modbus serial port can greatly expand the I/O count with the addition of Modbus slaves. If BACnet mapping is preferred, the unit incorporates a Modbus serial to BACnet/IP gateway - capable of processing up to 1000 points. The BASremote Master also allows you to install custom web pages so you can view the status of your system in a convenient manner. And using its onboard Web Services, your IT department can easily interact with the BASremote Master.
Additional universal I/O can be achieved with the simple addition of BASremote Expansion modules. The BASremote PoE has the same capabilities as the BASremote Master except that it is powered over the Ethernet connection - thereby providing a "One Cable Solution".
For more information, visit the BASremote product page.