New Rugged GigE Switch has PoE Functionality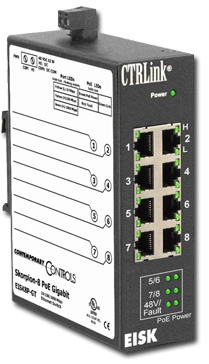 August 2013 - Often industrial environments involve adverse conditions that can influence the operation of Ethernet devices. Having designed and manufactured our products with this in mind, we are introducing our new Skorpion industrial Gigabit Switch engineered for demanding conditions. The EISK8P-GT Skorpion Gigabit Switch is a plug-and-play 8-port unmanaged Ethernet switch with features that include Gigabit Ethernet (GigE) performance on all ports and Power-Over-Ethernet (PoE) on four ports. The economical and versatile 8-port unmanaged Gigabit Switch is equipped for exceptionally quick speeds. GigE jumbo frames up to 9216 bytes are supported for maximum system performance. For 10/100 Mbps legacy devices, its port speed automatically slows - accommodating any Ethernet automation system.
Ports 5 - 8 PoE provide data and power over one Cat5e cable. The unit acts as power sourcing equipment (PSE) - supplying up to 15.4 W per port for IEEE 802.3af-compliant powered devices (PD). PoE eliminates the need for additional power supplies for Ethernet-enabled devices placed in challenging locations - such as wireless access points or IP cameras mounted out of reach or outdoors. PDs can be located up to 100 meters from the switch.
Depending on the capability of the link partner, communication is set at 10, 100 or 1000 Mbps at either half-or full-duplex. All ports accommodate either crossover or straight-through cable via the Auto-MDIX protocol. The unit is powered from 48 VDC. LED indicators assist in troubleshooting network issues.
The Industrial 8-Port Unmanaged Gigabit PoE Ethernet Switch is manufactured for environments that require a functioning switch that effectively works in demanding conditions. It has a rugged metal enclosure and is intended for DIN-rail mounting in control panels. The plug-and-play switch is ready to use out of the box and requires no configuration. All ports automatically configure data rate and duplex using the Auto-negotiation protocol.
The high-performance features of the EISK8P-GT Skorpion Gigabit Switch can offer protection to your industrial network and is an exceptional solution at an affordable price.
For more information, visit the Skorpion Switch product page.