BASgatewayLX Quickly Gets Modbus Data Up to the BACnet/IP Infrastructure
June 2014 - When our customers need to quickly get Modbus data from their mechanical devices up to the BACnet/IP infrastructure they use our BASgatewayLX. Customers benefit from the Modbus to BACnet Gateway when using external Modbus serial and TCP because the discovery of Modbus data points appears as quick as configuring BACnet points - greatly reducing the time to discover Modbus devices in the field. BASgatewayLX hosted Modbus device profiles do not require any configuration of points. Just load the proper Modbus device profile and the Modbus points in your Modbus devices will be made available as discoverable BACnet points.
The BASgatewayLX supports up to 30 Modbus serial devices with each device appearing as an individual BACnet device. Each one of the attached devices supports RTU and ASCII serial along with Modbus TCP slave devices attached over Ethernet. The BASgatewayLX functions as a master to all slave devices. Collectively, all the Modbus TCP and Modbus serial devices are assigned to a virtual BACnet network number during configuration. A list of Modbus device profiles for common Modbus devices is available from Contemporary Controls.
If you need a profile for a manufactures' device that you do not see listed we will work with you to get it developed.
Internal Web Server
The BASgatewayLX collects data from the Modbus slave devices and status of this can be seen through the internal web server.
Supports Virtual Routing
Through virtual BACnet routing, each uniquely addressed Modbus slave device appears as an individual BACnet device with a unique BACnet device instance. This makes adding multiple Modbus devices with identical device profiles to the same BASgatewayLX simple. More importantly, this allows you to cut/paste identical devices in your head-end.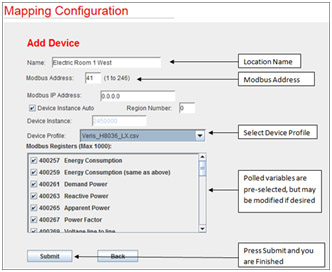 Easy Configuration
Configuring the BASgatewayLX is easy. Using your browser, open the BASgatewayLX home page. Select the "Configuration" tab and then "Add" a device. After submitting these quick, easy settings, the Modbus variables are now accessible as BACnet object instances. For more information, see the BASgatewayLX configuration video with this issue.
Key Product Features
10/100 Mbps Modbus TCP or BACnet/IP Ethernet port
Opto-isolated Modbus EIA-485 serial port for Modbus RTU or Modbus ASCII
Virtual routing allows each Modbus device to appear as a separate BACnet device instance
Up to 30 Modbus serial devices (represented by up to 1000 polled points total)
Pre-defined Modbus device profiles
Custom device profiles can be uploaded

Visit the BASgatewayLX product page to learn more.