Product and Portfolio Solutions for OEMS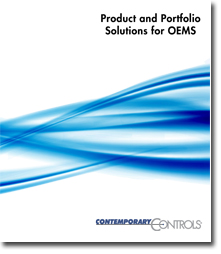 November 2014 - Even our long-time customers might not be aware that Contemporary Controls does all of our own design and manufacturing as well as provides Original Design Manufacturing (ODM) services to our customers. With 35 years of experience in electronics design, development and manufacturing, we have a rich inventory of intellectual property that can be tapped for your next project.

Contemporary Controls provides manufacturing services from printed circuit assembly (PCA) to complex systems integration and configuration and everything in between. Our lean, just-in-time manufacturing principles combined with our registered ISO9001 certification enables us to deliver the highest quality products at lower costs, with rapid time-to-market allowing our customers to focus on growing their business.
Contemporary Controls offers lead-free surface-mount technology (SMT) electronics manufacturing while complying with the requirements for the Restriction of Hazardous Substances (RoHS) European Union directive. Through-hole assembly and wave soldering are also supported.
Contemporary Controls adheres to the workmanship standards established by IPC Association Connecting Electronics Industries.
Our US manufacturing plant focuses on lower-volume, higher-mix products or those products requiring Made-in-America compliance or a North American Free Trade Agreement (NAFTA) certificate.
For higher-volume, lower-mix, cost-sensitive requirements, our larger plant offers the highest production capacity as well as global logistics support.
Both plants are under Underwriters Laboratories (UL) surveillance. Your intellectual property (IP) is protected at either plant location.
With our eight-phase product development process flow, we take a customer's product from concept to production in the shortest time. Two design and manufacturing locations provide private label, ODM and electronics manufacturing services. Leverage our design and manufacturing resources to reduce your costs and time-to-market.
Learn more at www.ccontrolsODM.com or view our updated ODM brochure.