Visit Us at SPS/IPC Drives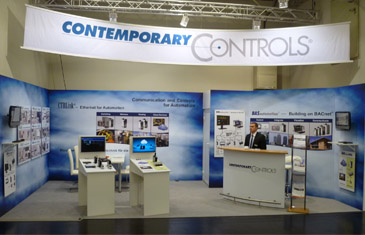 November 2015 - Visit Contemporary Controls at Stand 10.0-141 at the SPS/IPC Drives show in Nuremberg, Germany, November 24 - 26, 2015 to see our latest Ethernet communication and building automation control products. The SPS/IPC Drives show is the biggest user-oriented event that highlights new products, system solutions and concepts. This year, SPS expects thousands of exhibitors to display the latest innovations in automation technologies. The show is one of the largest shows of its kind in Europe. The exhibits encompass the entire automation controls market, from the individual components to complete system integration.
"The SPS trade fair is a very important show for Contemporary Controls in Europe" said Paul French, EMEA Sales Manager of Contemporary Controls. "It provides us the opportunity to showcase our Ethernet, BACnet, ARCNET and CAN product solutions to a sizeable and informed audience."
On display from the company's BASautomation product line are BACnet routers, Modbus gateways to BACnet, Sedona Framework™ and Niagara Framework® controllers that provide connectivity from the device to the Internet. Using a single Workbench tool, a complete BACnet system can be implemented by dragging and dropping components onto a wire sheet.
Our Industrial automation solutions feature our CTRLink line of managed and unmanaged Ethernet switches, IP wired and wireless routers, Power over Ethernet splitters and injectors, and examples of our custom Ethernet solutions used in high-stress applications. Whatever your network connectivity needs are make sure to visit Contemporary Controls at the SPS/IPC Drives show for quality and economical solutions.