AmCham Shanghai Celebrates 100 Years
November 2015 - The American Chamber of Commerce in Shanghai reached an impressive milestone - 100 years of existence! Granted, service to American business in China was interrupted by a World War and political revolution, it still represents a wonderful achievement and Contemporary Controls wanted to be part of the celebration. As a corporate member of AmCham Shanghai, Contemporary Controls was a table sponsor to their 100th Anniversary Dinner held at the Ritz Carlton PuDong on October 28, 2015. Over 400 people were in attendance including many Shanghai municipal government officials and other provincial and municipal officials from the Yangtze River Delta. U.S. Ambassador to China, Max Baucus, and Shanghai Vice-Mayor, Zhou Bo, provided remarks before dinner. The Master of Ceremonies was Yuan Ming, anchorwoman for Shanghai Dragon TV.
AmCham president Kenneth Jarrett and Chairman Robert Theleen said it best. This historic milestone is an opportunity to celebrate the significant contributions of American business to China's economic rise and to the prosperity of the people of China. A video was played highlighting the main events over the last 100 years.
The August 1915 mission statement includes the following. That the object of the Chamber shall be to watch over and protect the general interests of American Commerce, to collect information on all matters of interest to the American mercantile community, and to use every means within its power for the removal of evils, the redress of grievances, and the promotion of the common good.
As part of the 100 year anniversary event, a business forum entitled American Business in China: People, Partnership, and Progress was held the following day. Using a panel discussion format, business leaders related their experiences in China with recommendations on how best to succeed. One of the more relevant sessions for Contemporary Controls was the Emerging Opportunities breakout session entitled Green China: the Business of Green Tech. All the speakers and moderator were very knowledgeable about the state of green technologies in China with the message that the government is becoming serious about the need to reduce air pollution in China.
The anniversary dinner was an opportunity to invite our partners as guests to the dinner. One of the guests was Fei Jin, general manager of Bangtech Technology Tianjin Co. Ltd. Bangtech has recently been appointed as Contemporary Controls' distributor for northern China. The company has extensive experience using Honeywell Webs products and Contemporary Controls BACnet routers on jobs in the Tianjin area. Jason Peng, sales manager of Contemporary Controls was instrumental in signing up Bangtech as our distributor.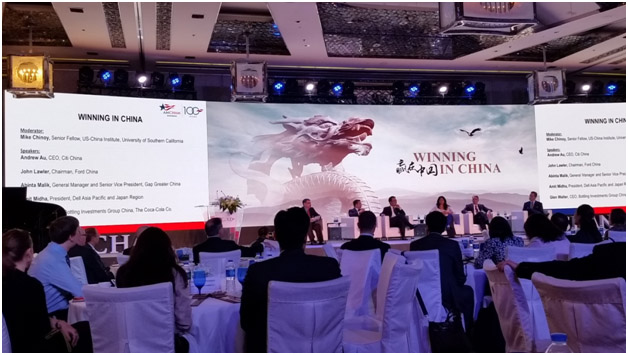 The American Business in China Forum was held on the second day of AmCham's 100 year celebration.
Fei Jin, general manager of Bangtech (left) is congratulated by Jason Peng, sales manager of Contemporary Controls. Bangtech is a recently added distributor in Northern China.