Part 7 of the Contemporary Controls SAE Video Series, Introduction to the Kit Manager, Now Released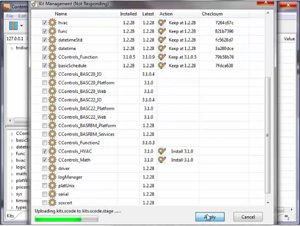 While Contemporary Controls Sedona Application Editor comes with a variety of kits already installed, SAE also allows system integrators to install their own custom kits via the Kit Manager.
The latest video created in Contemporary Controls multi-part SAE video series, part 7 in the series, details how to install and uninstall custom hardware independent kits using the Kit Manager in the Sedona Application Editor. Viewers will learn by installing the newly released CControls_HVAC kit and CControls_Math kit created by Contemporary Controls.
Popularized by Tridium's Niagara Framework, Sedona Framework is a software environment designed to make it easy to build smart, connected devices for control applications. Contemporary Controls' Sedona Application Editor (SAE) utilizes Sedona Framework to enable graphical development of control applications for Sedona devices. SAE contains a variety of kits and components readily available for users to control their devices.
For those of you new to the SAE, you can download your free copy here. For existing SAE users, the latest version (1.0.8) is now available. This upgrade includes the ability to run on PCs which have both 32-bit and 64-bit Java installed, support for Sedona 1.0.x devices and more. If you haven't received an email notifying you of the upgrade, please contact us at sedona@ccontrols.com so we can send you a link to the latest version.