BASrouter 3.0 Obtains BTL Listing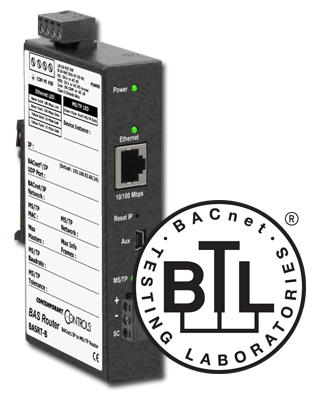 The BASrouter 3.0 from Contemporary Controls has been independently tested and has obtained BACnet Testing Laboratories (BTL) certification. It is BTL Listed for both B-RTR and B-BBMD device profiles. BACnet users will now have added confidence that the robust and versatile BASrouter — which provides stand-alone routing between BACnet networks such as BACnet/IP, BACnet Ethernet, and BACnet MS/TP — will seamlessly allow system integrators to mix BACnet network technologies within a single network.
The BACnet Testing laboratory (BTL) is an independent testing organization formed by BACnet International and BACnet Europe that provides BACnet conformance certification. BTL's requirements for BACnet functionality are based on ANSI/ASHRAE Standard 135.1. Products that are BTL listed have been rigorously tested and have passed the industry–standard BACnet conformance tests. While always designed to be BACnet compliant, the BTL tests validate that the BASrouter correctly implements the BACnet features for both B-RTR and B-BBMD device profiles. B-RTR certifies the BACnet routing functionality of our router and B-BBMD verifies the proper management of broadcast messages.
Using products that are BTL Listed means interoperability problems are much less of a risk for BACnet system integrators. Because there is a high cost associated with resolving interoperability problems between different vendor's products, many integrators are choosing to use only products that carry the BTL Mark to lower the cost of system integration and troubleshooting. "Very few BACnet routers have earned a BTL Listing for both B-RTR and B-BBMD. We are very focused on successful interoperability to reduce costs for the system integrator. The BTL Mark and enhanced diagnostics of our BASrouter reflect that effort," said Bennet Levine, R & D Manager.
An added benefit provided by the BASrouter 3.0 firmware is enhanced network diagnostic capabilities with visual analytics. Diagnostics include a graphical MS/TP status table, routing status table, network errors count, and traffic statistics. These new features allow an integrator to install robust BACnet networks with ease.
Visit the BASrouter product page to learn more.