Event Scheduling with the BASpi-Edge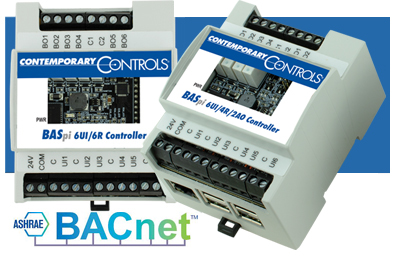 The BASpi-Edge allows you to quickly and easily control an operation (such as a time-based shutdown/powerup for energy savings) without challenging and time-consuming programming requirements.
The BASpi-Edge is a hardened controller with enhanced features and data processing at the Edge functionality, powered by Raspberry Pi. By utilizing a BASpi-Edge for your system, you have immediate access to a controller that simplifies both control and IoT applications, while reducing costs and complexity. It is fully web page configurable and offers a new approach to automation.
This versatile Edge controller is able to set up multiple advanced schedules with configurable events.
Default Schedule
Schedules utilize the time-keeping feature of the BASpi-Edge. Date and time can easily be set manually or automatically obtained over an Internet connection from an NTP time server. Devices are attached and controlled by any Schedule using the Sedona scheduling components.
A Default Schedule tab on the programming web page shows a default (regular week) schedule. This is the schedule that can be used for weeks when no events (such as holidays or exceptions) occur. An icon at the lower right corner of the web page is used to edit the Default Schedule to create your desired name and occupied/unoccupied times for each day.
Current Schedule
A Current Schedule tab allows you to create and name an array of current week's schedules with any events that occur that week. Events are listed under the Events column for each applicable day. You can browse through the current weekly schedules for the Schedule Name selected, using the Year and Week dropdowns or green arrows at the bottom of the web page. Events that are set up for any given week will be shown under the Events column for each applicable day.
Events
A third tab, the Events tab, is where special events with custom times, or conditions (for example, unoccupied for part of a day) can be created. Some standard holidays (New Year's Day, Independence Day, Thanksgiving, Christmas Eve, Christmas Day) have been pre-entered for the Default Schedule Name but creating a name for your event is easy. To create a new event, use the plus icon button on the webpage, enter a name for the event, and using radio buttons choose a Month, Day of Month, and Occupied/Unoccupied times or a Vacancy check box for the entire day.
Alternatively, a new event can also be entered as Day of Month independent of the date (for example, floating holidays). Using the Day of Month radio button option, choose Month and Day of Month (such as 4th Thursday in November for Thanksgiving) and Occupied/Unoccupied times or check off the Vacancy check box. This allows you to keep the event without having to change its exact date as it changes to a different date every year.
Event Scheduling is just one feature of the BASpi-Edge. The unit is housed in a compact DIN rail mounted enclosure with 24 VAC/VDC power input and a resilient pSLC 8 GB micro SD card. It provides performance and convenience advantages, making it suitable for a wide array of applications. BACnet client/server communication over Ethernet or Wi-Fi, Sedona function block programming, and data processing at the edge come standard. The BASpi-Edge is fully web page configurable with quick and easy cloud connectivity to Azure IoT Central (SaaS) cloud solutions.
Two models are available. While both models have six universal inputs, one model has six relay outputs, and the other four plus two 0-10 VDC analog outputs. Besides Ethernet, Wi-Fi, and a direct HDMI output, a USB port on either model, (with an optional EIA-485 dongle), allows connection to BACnet MS/TP devices.
Learn more by visiting the BASpi-Edge product page.