BASpi-Edge and BASview3 Help Convert Older BMS Systems to BACnet
Runner-Up: Pi Day Celebration - Innovation with the BASpi-Edge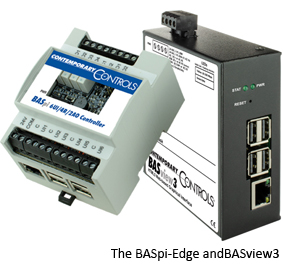 Building energy management systems (BEMS) are essential for managing and controlling the energy needs of a building. However, older BEMS are often incompatible with the latest features, replacements parts are costly and difficult to find, and many older systems lock users into a single proprietary support company.
The BASpi-Edge and BASview3 were instrumental in helping the Karl Corporation convert an older BEMS in a commercial multi-story tenant building to current technologies. Because Contemporary Controls is a long-time supporter of open software, the BASpi-Edge and BASview3 do not use proprietary programming languages, programming tools or have licensing restrictions.
Karl Corporation replaced the legacy system in a ten-story, 100,000 sq. ft. commercial office building. Ten BASpi-Edge units were used for the floors, plus one for rooftop control and one for a fresh air unit. The BASpi-Edge series are hardened controllers with enhanced features and data processing at the Edge functionality, powered by Raspberry Pi. Housed in a compact DIN rail mounted enclosure with 24 VAC/VDC power input and a resilient pSLC 8 GB micro SD card gives them performance and convenience advantages, making them suitable for a wide array of applications.
For this application, a typical floor has a single BASpi-Edge 6U6R for controlling individual or zoned HVAC units and lighting loads. A BASpi-Edge 6U4R2A was used for control of the rooftop machinery including the fresh air makeup unit, where building managers tracked the temperature monitoring feature and stage on three compressors and two heater strips. Additionally, the BASpi-Edge managed two cooling towers with variable frequency drives providing control over speed and power; two circulation pumps on the tower; an air scrubber for restrooms; common rooftop lighting; and power control of the buildings fresh air makeup units.
A BASview3, which is a stand-alone, embedded, web-based graphical interface for building automation and process automation systems, was used for scheduling and trending. The BASview3 simplified the day-to-day operations, holiday exceptions, building overrides and trending services that are necessary with a large, busy building. The BASview3's graphics made final management reports easy to generate and understand.
The BASpi-Edge handles requests from the tenant via a webpage on the internet. Used for afterhours A/C and lighting overrides, the BASpi-Edge allows the default energy consumption to be low, but tenants can override those settings and that override can be tracked so the building owners can expense it accordingly. The tenant web-based A/C override uses the BASPi-Edge's internal REST API, which can be used to interface between third-party, legacy, or non-BACnet devices, applications or data servers.
When asked about the BEMS conversion using the BASpi-Edge and BASview3, Mike Ramos of Karl Corporation said, "One person handled the entire conversion. This is the best compliment that can be paid to the design of this system. We did not require a team of people, just Contemporary Controls technical support."
Visit the BASpi-Edge product page or the BASview3 product page to learn more.