Enhanced Functionality for BASgatewayLX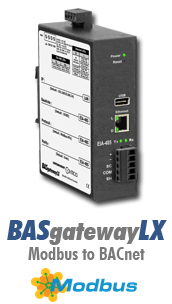 New firmware that provides enhanced security is available for the BASgatewayLX. The Modbus to BACnet gateway is a popular choice for systems integrators because of its ease-of-use and the availability of pre-defined profiles for devices like energy meters, boilers and chillers. Firmware 2.0.19 provides additional functionality and ease of use.
Enhanced Security
Enhanced security with SB-327 compliance has been added to the BASGLX-M1 requiring the user to change the default password during initial setup. When the user first logs-in to configure the device, they will not be allowed to save the settings until a new password has been created. This password must meet the minimum acceptable requirements of at least eight characters in length (without blank spaces) with at least one numeric value and at least one letter. If the user presses the unit's IP reset button, the device will return to the factory default IP settings, username and password. When reconfiguring the device, a new password will be required.
Allowlist Configuration Tab
Allowlist configuration tab has been added to the BASGLX-M1 providing a function that restricts BACnet/IP traffic to only be accepted from BACnet headends and supervisors specified in the Allowlist thereby providing additional security and eliminating the devices' need to respond to unrelated messages.
Backup/Restore Functions
System Settings Backup/Restore is a new function that allows the entire Configure Settings (System Name, IP Address Subnet mask etc.) to be saved as a single XML file. Once it is saved, the file name can be changed to allow customization to help clearly define the project name. This file can be downloaded to other gateways to preconfigure common configuration setting to allow faster startup.
Mapped Profile Backup/Restore allows saving all the mapped profiles to a single file. All the data in the Mapping Configuration tab is saved with all the preset of the variables to be polled. This provides a quick way to store an entire project and restore them to other gateways making startup quicker. Also, a Mapping Configuration can consist of multiple profiles that are restored individually from a library. Building a library makes start up as easy as selecting commonly used profiles that you have preconfigured.
To learn more and download the free firmware 2.0.19, visit the BASgatewayLX Firmware page. A video explaining the enhanced functionality is also available.