BASview3 Custom Graphics Facilitate Automation Supervision and Control
The BASview3 embedded, web-based graphical interface continues to be popular in the building automation and process automation industries due to its ability to provide client functionality and control to any BACnet/IP and Modbus TCP system.
This self-contained supervisor can be accessed from any web browser with client features that include animated graphic screens, scheduling (with time maintained on power loss thanks to its super capacitor-backed real time clock), historical trending, runtime accumulation, alarm monitoring, and email notifications. The BASview3 will automatically toggle outputs and change setpoints on schedule, collect runtime and trend data, and monitor alarm conditions. It can support up to 2,000 nodes, in any combination of devices, points, schedules, alarms, trends, etc., making it ideal for small to mid-size buildings or processes that require a simple-to-use graphical interface with no licensing requirements.
Graphics can be used to monitor and control any BACnet or Modbus system. Custom graphics, in PNG or GIF file format, can be uploaded to the BASview3 and used in graphic screens. Animations can be uploaded as an animated GIF. Images can be purchased online from vendors or created using open source or professional software. You can also upload a photo in PNG format. Image containers in the BASview3 can utilize uploaded images as a background, such as a floor plan. While smaller images, such as automation equipment or customer name or logo, can be freely positioned in the graphic. The BASview3's library of gadgets for displaying and/or controlling point values can be used to freely position over the uploaded image to create a complete and functional graphic of a system. BASview3's HTML5 graphics are easy to create and scale on a variety of platforms, such as tablets, mobile phones, or PCs, and can be accessed by multiple users simultaneously from anywhere over the network.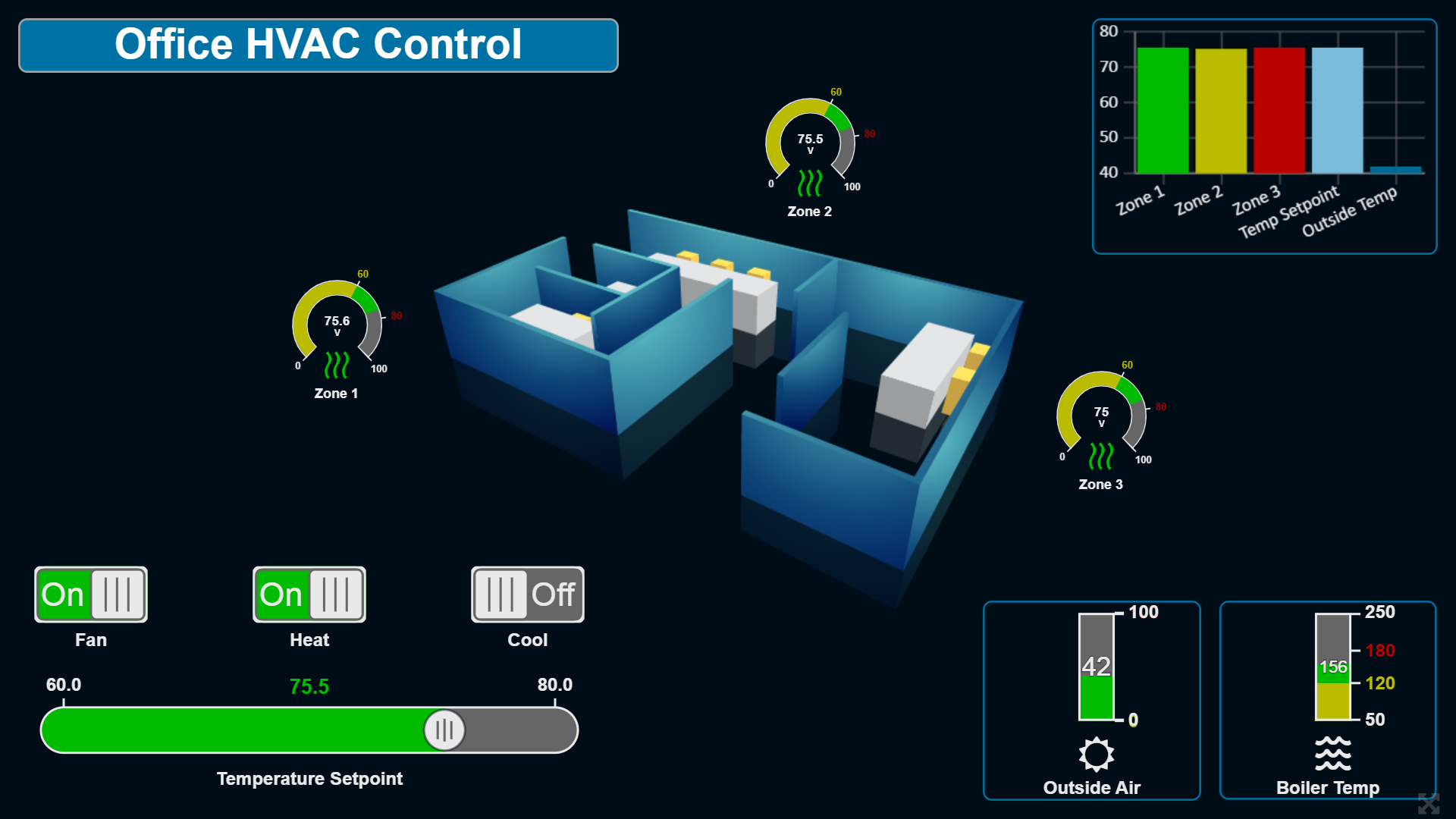 For example, the 3D floor plan for the Office HVAC Control image was imported into the BASview3 as a PNG image file, then several built-in BASview3 gadgets were freely positioned on top and around it. Then BACnet points were attached to each gadget using the menu.
This second example shows how you can use this graphical interface to monitor equipment, such as a roof top unit, air handler unit, or boiler. BASview3 gadgets can be positioned in the appropriate locations around the equipment image to indicate important parameters. The equipment Status image shown was purchased from ControlPix and uploaded to the BASview3. The ControlPix image contains a detailed equipment depiction with animations on active elements dynamically driven by changes in point values, such as an active/inactive supply fan, neutral/red heating element, neutral/blue cooling element, open/closed damper at various positions as well as clean/dirty filter indication. BASview3 gadgets, such as a Trend Container and Arc and Bar Gauges, are freely positioned adjacent to the equipment image to indicate any current and historical point values of interest.
The BASview3 is easy to install with a compact metal enclosure that is DIN-rail mounted, 24VAC/VDC power input with backup and a 10/100 Mbps Ethernet port. For more information, visit our BASview3 product page.