BASpi-Edge Training Videos Available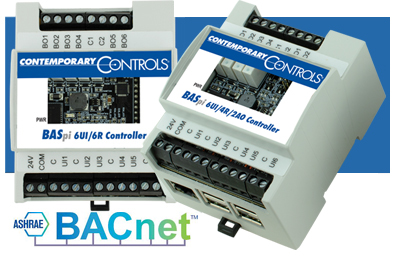 A series of training videos are available for the BASpi-Edge 12-Point Cloud - Connected BACnet Edge Controllers. These videos provide the information you need to get started with your controller and perform initial system configuration.
The video BASpi Edge Introduction provides an overview of these Edge controllers showing their flexible input/output, versatile control with advanced features, such as email alarms and notifications, schedules with holidays and exceptions, weather web service, as well as graphical dashboards served over Ethernet, Wi-Fi, or directly out of the resident HDMI port.
A second video, BASpi-Edge Initial Login and Web Page Access, guides you through the initial Ethernet connection of the BASpi-Edge to your computer, creating your secure login credentials, and gaining access to the BASpi-Edge main webpage.
A third video, BASpi-Edge System Configuration, picks up at the conclusion of the previous video and guides you through the steps for system configuration using the web page. This video explains how to manage supported protocols (BACnet/IP, BACnet MS/TP, BACnet client capability, and Sedona), network configuration for both Ethernet port and built-in Wi-Fi adapter, BACnet device settings, and BACnet MS/TP settings for use with the USB to EIA-485 dongle. Upcoming videos will demonstrate use of the configuration covered in this video.
To view these and more videos about our BASpi-Edge Series, visit BASpi-Edge Video Series. Or, if your prefer written content, visit our BASpi-Edge product page, where you can download BASpi-Edge support materials regarding installation and use of the controller.