New BACnet Wi-Fi and MS/TP Compliant Thermostat Announced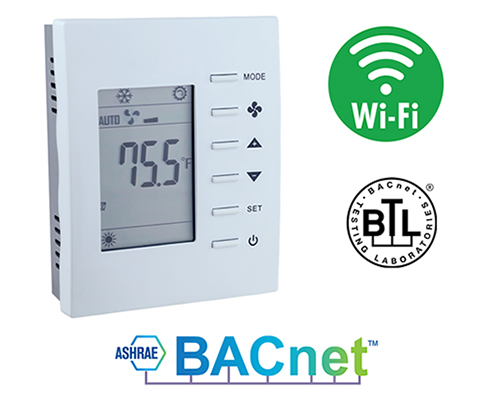 Contemporary Controls continues its mission of "Building on BACnet" by introducing the BASstat series of BACnet-compliant wired or wireless communicating thermostats that are BTL Listed to ensure effortless integration into BACnet/IP (Wi-Fi) or BACnet MS/TP (EIA-485) networks.
BASstat thermostats are suited for single or multi-stage heating, cooling and ventilation binary output control applications such as RTU or AHU. Configurable control algorithm parameters allow adaptability to the specific application. Adaptive control algorithm applied to multi-stage on/off control saves energy and ensures seamless comfort for the occupants. Built in temperature sensor, input for remote temperature sensor, or temperature override network command from Building Automation System can be used. Occupancy status can be set from thermostat buttons or over the BACnet network. Thermostat buttons are optionally lockable to prevent unauthorized control. Digital display with graphical icons is easy to read and understand.
The BASstat's white backlit LCD display is large and easy to read, even from a distance. It incorporates graphical icons to aid visual indication of current state of operation. Several icons indicate parameters such as: Active Mode, Cooling stage 1 or 2, Heating stage 1 or 2, Ventilation Only, Fan Active, Occupied/Unoccupied state, and Clock icon to indicate Short Cycle Delay or Max Cycles per hour active waiting state. These icons are very useful in indicating the thermostat's current state of operation.
Six buttons on the BASstat allow users to manipulate temperature set point, change HVAC modes, turn the thermostat ON/OFF, and more. Pressing the Set and Up/Down buttons can manually toggle the thermostat from occupied/unoccupied modes, where BACnet occupancy command is not an option. All 6 of these buttons are lockable in a configurable manner to prevent unauthorized configuration change. Some or all buttons can be locked for application flexibility, making the stat suitable for applications where limited user control is allowed.
Visit the BASstat product page for more information.