Wireless BACnet-Compliant Thermostat Now Available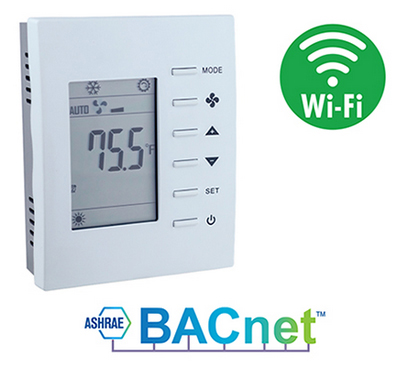 The popular BASstat BACnet-Compliant Thermostat is now available with WiFi.
The BACnet/IP Wi-Fi thermostat has a B-ASC device profile for effortless integration into BACnet/IP networks using a Wi-Fi connection. The thermostat is suitable for single or multi-stage heating, cooling, and ventilation binary control applications such as RTU or AHU. Configurable control algorithm parameters allow adaptability to your specific application. Multi-stage on/off control saves energy and ensures seamless comfort for the occupants.
BACnet/IP Wi-Fi communication requires connecting the thermostat as an access point for initial configuration. A Wi-Fi enabled laptop/computer or smart portable device can discover the BASstat initially as a Wi-Fi access point with a Service Set identifier (SSID) of "WiFi-122B-xxxx" and no passphrase. Simply click to connect to the BASstat. The digits "xxxx" are the last 4 digits of the thermostat's MAC address and can be found on the label on the back of the thermostat's Wi-Fi chip. This allows multiple units to be connected to the same Wi-Fi network. Once connected to the thermostat, open its web page for network configuration. The local Wi-Fi network parameters can be entered and stored, and a unique Device Instance number can be assigned to the BASstat to distinguish it from all other BACnet devices on the network. Thanks to its EEPROM, the BASstat will store all information in a non-volatile memory that is safe from power loss.
User-side comfort control is accomplished with six clearly labeled pushbuttons, which can be selectively locked to prevent unauthorized configuration activity. A large and easy to read backlit LCD display incorporates graphical icons to provide visual indication of the BASstat operation. In addition to the current temperature (selectable between °F and °C), icons indicate the current state of operation and can be a useful tool for both occupants and supervisory personnel.
Learn more on the BASstat product page.