New RemoteVPN Application Guide Available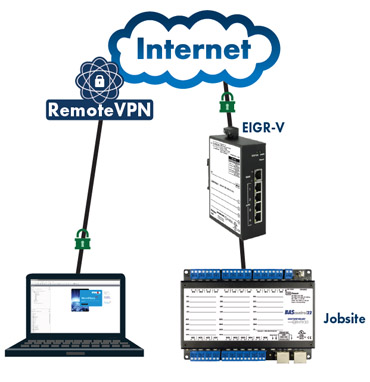 Utilizing the Internet for remote commissioning provides convenience while saving time and money. However, accessing equipment at remote sites can be difficult because firewalls block messages that originate from the Internet. One solution is to incorporate a virtual private network (VPN) between end sites such as your office and the remote job site. The end-points are called clients and communication is encrypted – so only authorized devices can communicate over the VPN.
Contemporary Controls RemoteVPN subscription service hosts a cloud-based OpenVPN server. OpenVPN clients (for workstations and mobile devices), and Contemporary Controls OpenVPN routers (installed at job sites) communicate via this server. OpenVPN is open-sourced software that incorporates security protocol that utilizes SSL/TLS for key exchange and provides encrypted data transfer. RemoteVPN is capable of traversing network address translators and firewalls without setting up port forwarding rules for the devices. OpenVPN clients for PC, MAC, Android, and iOS devices are all available and are free to download.
A new RemoteVPN application guide is available on our website. It has been updated to reflect the latest advances in our CTRLink VPN router family such as the EIPR-V, EIGR-V, and EIGR-C with both wired and wireless router options. Nine typical applications are shown in the guide, with numerous alternatives described for each implementation. This application guide will teach you how to incorporate a VPN into almost any situation you can imagine, and maybe some you haven't even thought of yet.
Visit the RemoteVPN product page to learn more, or watch our new video about the RemoteVPN service.