BASrouter 3.0 With Diagnostics Proves Popular
In evidence at this year's BACnet International Plugfest were many vendors utilizing the Contemporary Controls BASrouter 3.0 as the interface between the BACnet products they were testing and BACnet/IP. The BASrouter provides the connection between the IP and MS/TP networks, allowing vendors to verify that they can communicate successfully with devices on MS/TP. Our EISK Skorpion Diagnostic Switches are also helpful in capturing IP traffic via Wireshark to readily debug IP communications. We have provided these diagnostic switches to participants at previous Plugfests to facilitate testing.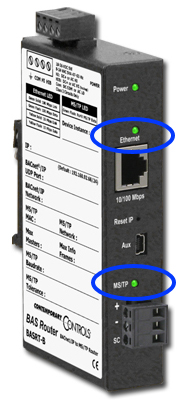 The BASrouter 3.0 has BACnet Testing Laboratories (BTL) certification for both B-RTR and B-BBMD device profiles for seamless integration into BACnet networks. The BTL listing and accompanying certificate of conformance guarantee that the BASrouter 3.0 complies with the BACnet standard. It is a compact BACnet multi-network router which provides versatile stand-alone routing between BACnet/IP, BACnet Ethernet (ISO 8802-3), and BACnet MS/TP networks. The BACnet router is web page configurable and is powered by 24 VAC/VDC.
In addition to its field-proven operation, the BASrouter has several diagnostic capabilities built into its 3.0 firmware. By pairing the BASrouter's diagnostic capabilities with a BACnet utility such as the free BACnet Discovery Tool (BDT) from Contemporary Controls, you are well-armed to troubleshoot BACnet networks in the field. The BASrouter installation guide contains the essential power and network configuration information needed for a successful installation.
The most basic, and really the first step to troubleshooting your BACnet network using the BASrouter is to look at the Ethernet and MS/TP Receive LED lights on the front of the device. These lights are a good indicator of network activity. A bicolor Ethernet LED glows green for 100 Mbps, and yellow for 10 Mbps, and indicates activity by flashing. The MS/TP Receive green LED flashes rapidly when valid MS/TP traffic is received. When flashing continuously and without interruptions, the LED is a good indicator that the MS/TP network is operational. If there are long interruptions in the MS/TP Receive LED, you may have some issues on the MS/TP segment.
The BASrouter has a resident web server which allows for commissioning and troubleshooting using a standard web browser. Using the Status page (shown below), it is possible to troubleshoot a segment further. The Status screen is always operational and keeps tabs on activity. It consists of an MS/TP Device Status table with color-coded blocks for each device, Network error counts are shown in red, along with router traffic statistics below. The Status page will automatically refresh every 5 seconds with the updated status on networks and devices so you can observe network state changes and gain insight into the condition of the BACnet network at any time.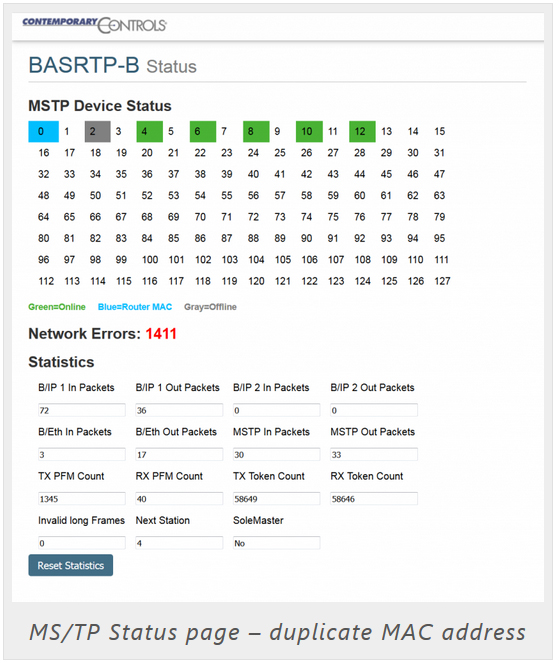 An extended temperature range version, along with a BASrouter portable version that utilizes USB power, are available as well.
Learn more on the BASrouter product page and the EISK Skorpion Diagnostic Switches product page.