GreenMediaHD Uses Custom Components to Enhance Contemporary Controls' Open Controller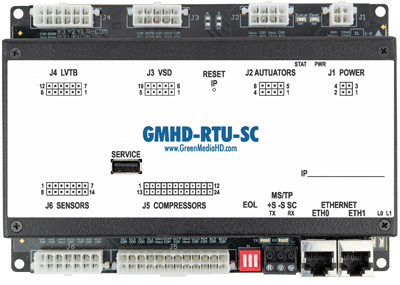 GreenmediaHD recently used the Sedona Alliance and Contemporary Controls' free Sedona Applications Editor (SAE) to create custom components for its advanced rooftop controller.
Sedona is an open-source software environment designed to make it easy to build smart, networked, embedded devices which are well suited for implementing control applications. Utilizing Sedona's component-oriented programming language, developers can create custom components using a Sedona complier that can be downloaded for free from the Sedona Alliance website. Along with the complier is a source code, a sample Sedona virtual machine, documentation, and ready-made Sedona components to build upon. All of this is included in a single zip file ready for download.
The components were built on Contemporary Controls' RTU38 open controller which is intended for OEMs. Equipped with standard BACnet, a typical Sedona RTU application, and featuring pin and socket connectors that speed controller installation in the RTU, GreemediaHD found the RTU38 an ideal platform for creating custom components to build a proprietary product with specific performance requirements.
With more than 20 years of experience in air conditioning control and optimization, GreenMediaHD developed a kit of new Sedona components to use in their Rooftop Unit Smart Control (RTU-SC) to improve energy efficiency and user management and accessibility. The RTU-SC is an energy saving component in the rooftop units of a building HVAC system to modulate, optimize and control the RTU fan speed to improve ventilation rates of an HVAC system.
According to Reynaldo D. Manalich Mazo, software developer at GreenMediaHD, LLC, "If your company has an enthusiastic development team, you can create new custom components and kits for specific types of applications using the Sedona compiler. After you install them onto a Sedona controller, and then integrate them with other Sedona components using a Sedona editor, such as SAE, you can create your own specific application controller."
SAE is part of the BAScontrol Toolset, which is a free set of software tools for Windows PC used to develop Sedona wire sheet applications, save the application and full configuration to a single projectBackup.zip file, as well as emulate full controller operation on PC for testing and development of applications with support for the BAScontrol, BASpi-IO, and BASpi-Edge series of controllers.
To learn more, read the full success story, or for more information about Sedona technology, visit Sedona Alliance.
To learn more about SAE and the BAScontrol Toolset, visit the BAScontrol Toolset product page or read the Sedona Open Control Reference Manual (PDF).
GreenMediaHD is available to customize the RTU-38 for your needs. For more information, visit https://greenmediahd.com/rooftop.