RefriAMERICAS 2019 in Miami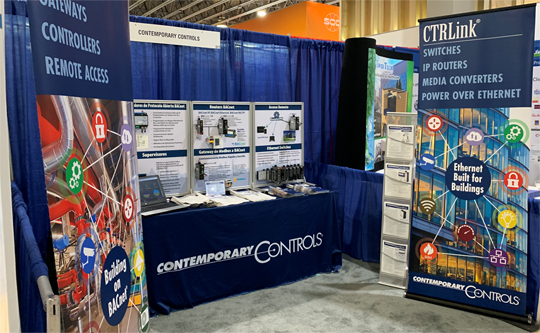 Contemporary Controls was pleased to exhibit at the recently held RefriAMERICAS Show in Miami on June 26-27. The show is focused on Refrigeration/HVAC and geared towards the Latin America market. For more than 15 years, RefriAMERICAS has provided the latest training, innovations and leading suppliers in the regional industry. We had the opportunity to greet our current customers and make some new friends as well.
The "Open Control" concept of our BAScontrol Series with free tools and no licensing restrictions was popular at the show. Using a BAScontroller and our free programming tools, system integrators can create custom applications using drag and drop programming.
We also introduced the BASview3 at the show. This simple and intuitive HTML5 Graphical interface provides support for BACnet/IP and Modbus/TCP. The BASview3 can act as a supervisor for small installations with support for trending, graphics, alarms and schedules.
The BASgatewayLX was well received for its ability to easily interface Modbus Devices into existing Building Management System (BMS) that require BACnet/IP. A selection of pre-built Modbus profiles and our readiness to create new device profiles free-of-charge make it very easy to integrate any Modbus device to a BACnet/IP system. The BASgatewayLX can also act as a gateway between Modbus/TCP and Modbus serial devices. (See the accompanying article in this month's newsletter.)
We showcased our BACnet Thermostats — both the MS/TP version and a BACnet/IP with Wi-Fi version. These thermostats are suited for single or multi-stage heating, cooling and ventilation output control applications such as RTU or AHU. Our BASrouter, which is a BTL Listed compact BACnet multi-network router, provides versatile stand-alone routing between BACnet/IP, BACnet Ethernet (ISO 8802-3), and BACnet MS/TP networks. Both products were well-liked at the show.
For our Ethernet customers, we exhibited our CTRLink product line featuring our Ethernet switches (Managed, Unmanaged and Diagnostic switches), PoE products, Copper/Fiber ports options, IP routers and Remote Access solutions in this portfolio. We have a wide variety of products that can cope with multiple applications. Almost all these products carry the UL 508 rating, have a convenient DIN-rail mounting option and are powered from 24V AC/DC.